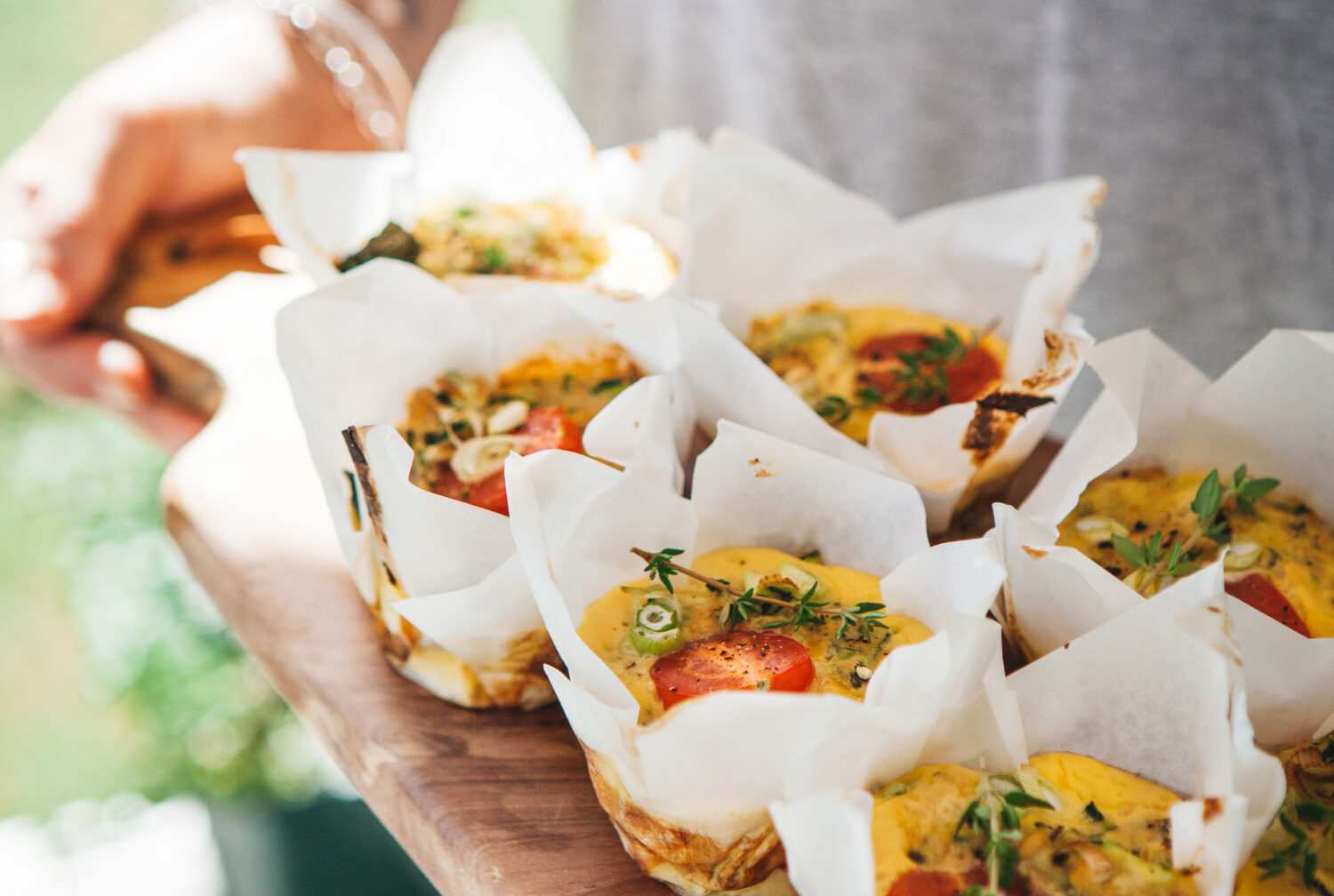 Makes 4
FOR THE BASE MIXTURE
3 eggs
1/4 cup of almond milk
1 tin of wild salmon, drained and mashed (95g)
1 small zucchini, grated
1 tablespoon of chopped fresh herbs (basil, parsley or thyme)
Himalayan or sea salt and pepper
2 cherry tomatoes, halved
FOR THE FILLING PER EGG CUP
2 – 3 chunks of roast sweet potato
2-3 broccoli florets, chopped
TOPPING
2 spring onions, sliced
Suitable for:
Breakfast | Lunch | Dinner | Snack
Vegetarian and other options 
We have added wild salmon to this although you could also use another animal protein such as cooked shredded chicken. For a vegetarian option you could use extra vegetables such as mushrooms or onion. This recipe is unable to be made vegan, because of the eggs. We would recommend choosing another breakfast such as the Buckwheat Granola Clusters instead as you will have plenty of that on hand.
Preheat the oven to 180 degrees celsius.
Whisk the eggs and milk together. Add the salmon and zucchini and mix. Season with salt and pepper.
Line your muffin tin with baking paper muffin liners or grease with olive oil. Place the sweet potato, broccoli and half the spring onion in the bottom of each muffin tin. Spoon in the egg mixture.
Add fresh herbs, the remaining spring onion and half a cherry tomato.
Bake for 20 minutes.
These make a great change to a sweet breakfast. Starting the day with a savoury, high protein breakfast like this is sure to set you up well and keep you sustained throughout the morning. High in vitamin A, these egg cups are a great skin friendly breakfast! Remember you can also use cooked shredded chicken or other vegetables instead of the salmon if you prefer.

CARRY-OVER NOTES
The Bestow way is to make once and eat twice!
Place in an airtight container and freeze. Defrost on Day 4 and serve 2 for breakfast on Day 5 and the remaining 2 for Day 6 breakfast.