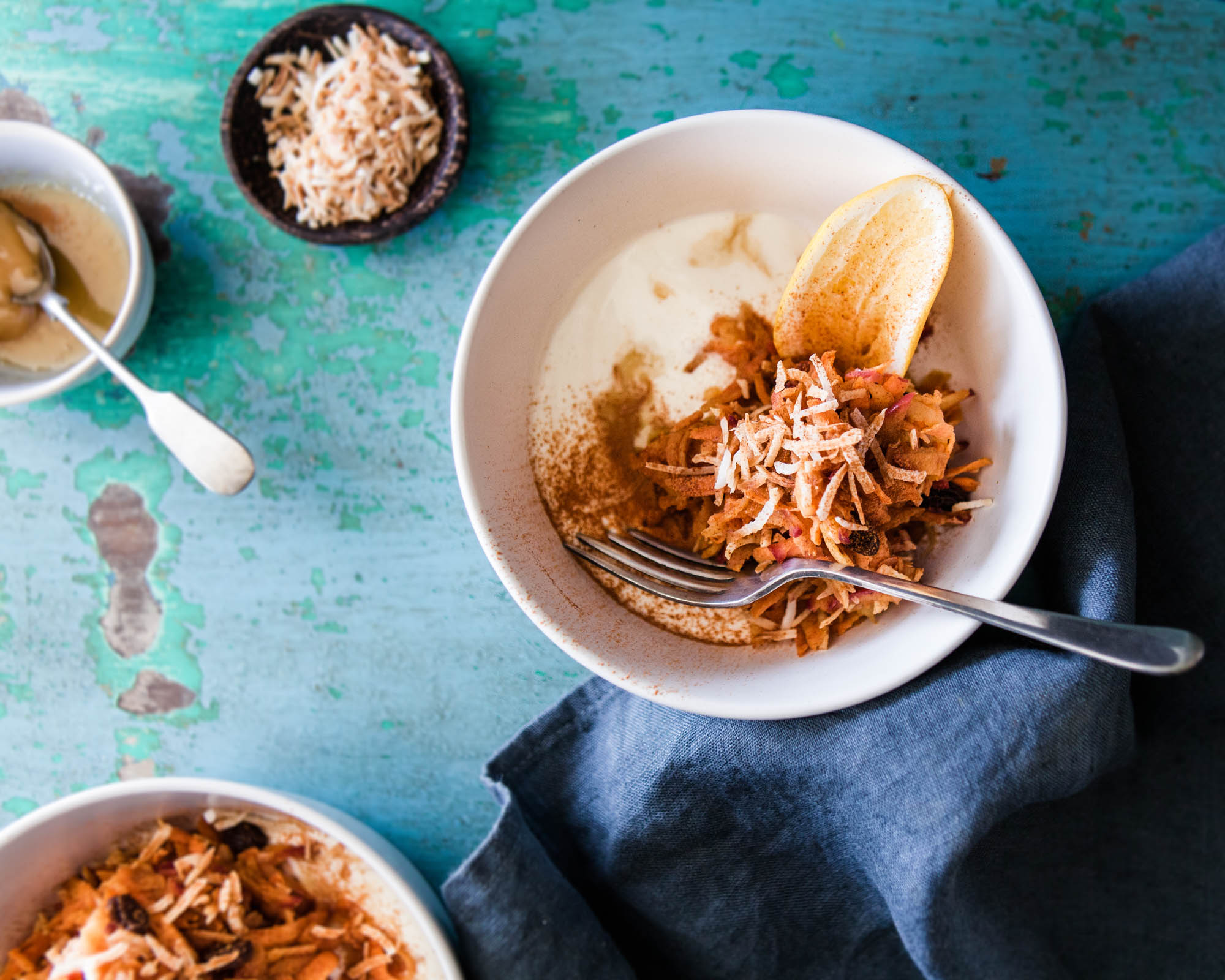 INGREDIENTS
2 servings
1 carrot, peeled and grated
1 apple, cored and grated
Juice of 1/2 a lemon
2 tablespoons of coconut thread
1 tablespoon of raisins or sultanas
2 teaspoons of olive oil
1 teaspoon of raw honey
½ a teaspoon of ground cinnamon
½ a teaspoon of ground ginger
TO SERVE
1 tablespoon of coconut yoghurt (dairy free)
1 tablespoon of Bestow Beauty Plus Oil
Place all the ingredients except for the olive oil in a bowl and mix well. Heat olive oil in a large frypan for a couple of minutes at med-high heat. Add the mixed ingredients and sauté until soft and fragrant (5 – 10 minutes).
PROGRAMME NOTES
Serve half warm with yoghurt  and Bestow Beauty Plus Oil. Place the other half in a sealed container in the fridge for breakfast on Day 2. We put ours in a glass jar along with the yoghurt and Bestow Beauty Plus Oil, so that we can easily take a portable breakfast to work if we wish to.
It's a good habit to zest your lemon before you use it and save the zest to add extra flavour to any meal. Lemon zest is a tasty addition to this breakfast.
This is one of our favourite breakfasts, as it is equally delicious served warm straight away or eaten cold the next day. It is so easy and you can really mix and match ingredients for variety. Simply use carrot as the base and then add fresh fruit (banana works nicely as it caramelises), dried fruit and spices. It tastes like a dessert and is a sweet treat you can enjoy that isn't detrimental to your gut health!