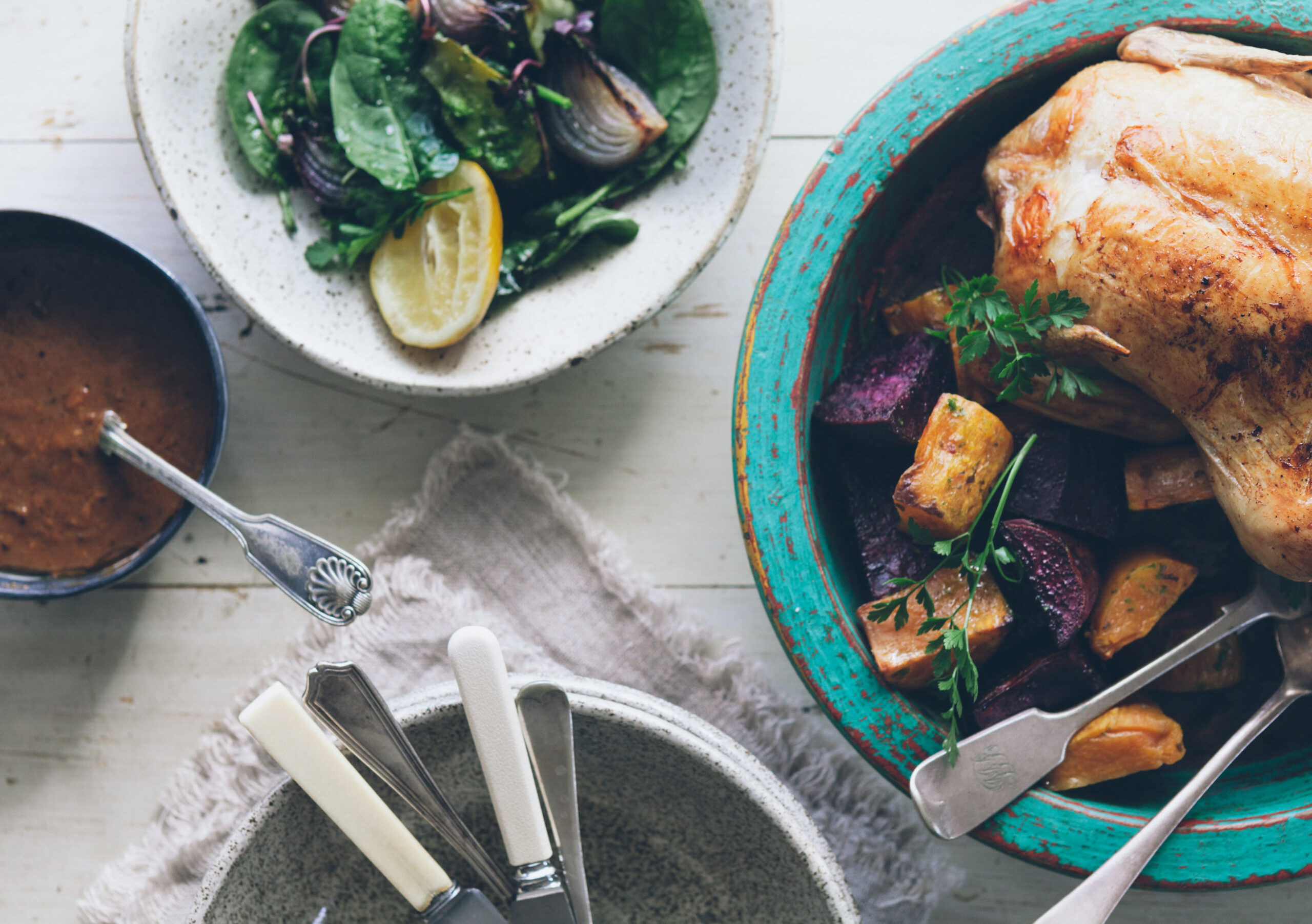 INGREDIENTS
Stuffing
1 lemon, pricked with a fork several times
1 small handful of parsley
½ an onion
Chicken
1 whole chicken, (organic
and free range)
1 tablespoon of olive oil
Himalayan salt to season
1 cup of water
1 carrot, sliced lengthways
1 celery stick
½ an onion
½ a head of garlic (skin on)
Vegetables
1 sweet potato, cut into chunks
1 beetroot, cut into chunks
¼ pumpkin, cut into chunks
2 tablespoons of olive oil
Gravy
1 tablespoon of arrowroot powder (or tapioca)
1 – 1½ cups of boiling water
TO SERVE
1 cup of spinach or other greens such as kale, rocket or lettuce
Suitable for:
Lunch | Dinner
Serves 2
Pre-heat oven to 180 degrees celsius. Stuff chicken with lemon, parsley and onion and place in a roasting dish. Drizzle olive oil over the chicken and season with salt.
Pour water into roasting tray around chicken and add carrot, celery, onion and garlic. Place in the oven for approximately 1½ hours. Every ½ hour we recommend basting the chicken using juices from the pan.
With about 40 minutes to go, place prepared vegetables (sweet potato, beetroot, pumpkin) into a bowl and mix with olive oil to evenly coat. Place vegetables onto a tray lined with baking paper, spread out evenly and place in the oven to roast with the chicken. Once chicken and vegetables are cooked, turn off oven, remove the chicken and cover to keep moist and warm. Leave roast vegetables in the oven while you make the gravy.
FOR THE GRAVY
Using a stick blender puree celery, carrot, onion that were cooked in the roasting dish with the chicken. Squeeze the roasted garlic out of its skin, add to the puree and blend. Add a little boiling water if needed.
Place the roasting pan onto the stove top (over two elements) on medium heat. Add the arrowroot powder to the pan and using a whisk, stir quickly around the pan scraping and mixing in the juices that remain. Whisk in the pureed vegetables to the gravy base. Gradually add one cup of boiling water, whisking as you go to avoid lumps. Turn down heat when it starts bubbling. Simmer for 10 minutes, adding more boiling water if needed. Season to taste. If you prefer a smoother texture, process in the blender again and pour into a jug or bowl for serving.
Serve the roast chicken and vegetables on a large platter with extra greens.
PROGRAMME NOTES
As this is the last meal on your programme, you can roast any vegetabels (ie cauliflower or broccoli) that you have remaining. Save any leftovers for lunch tomorrow and freeze any leftover gravy.
This recipe is our take on the classic Sunday Roast. We love the way this meal brings people together around the table to enjoy good food and good company. This tasty recipe allows you to indulge in this Kiwi favourite and know you are nourishing your gut at the same time.