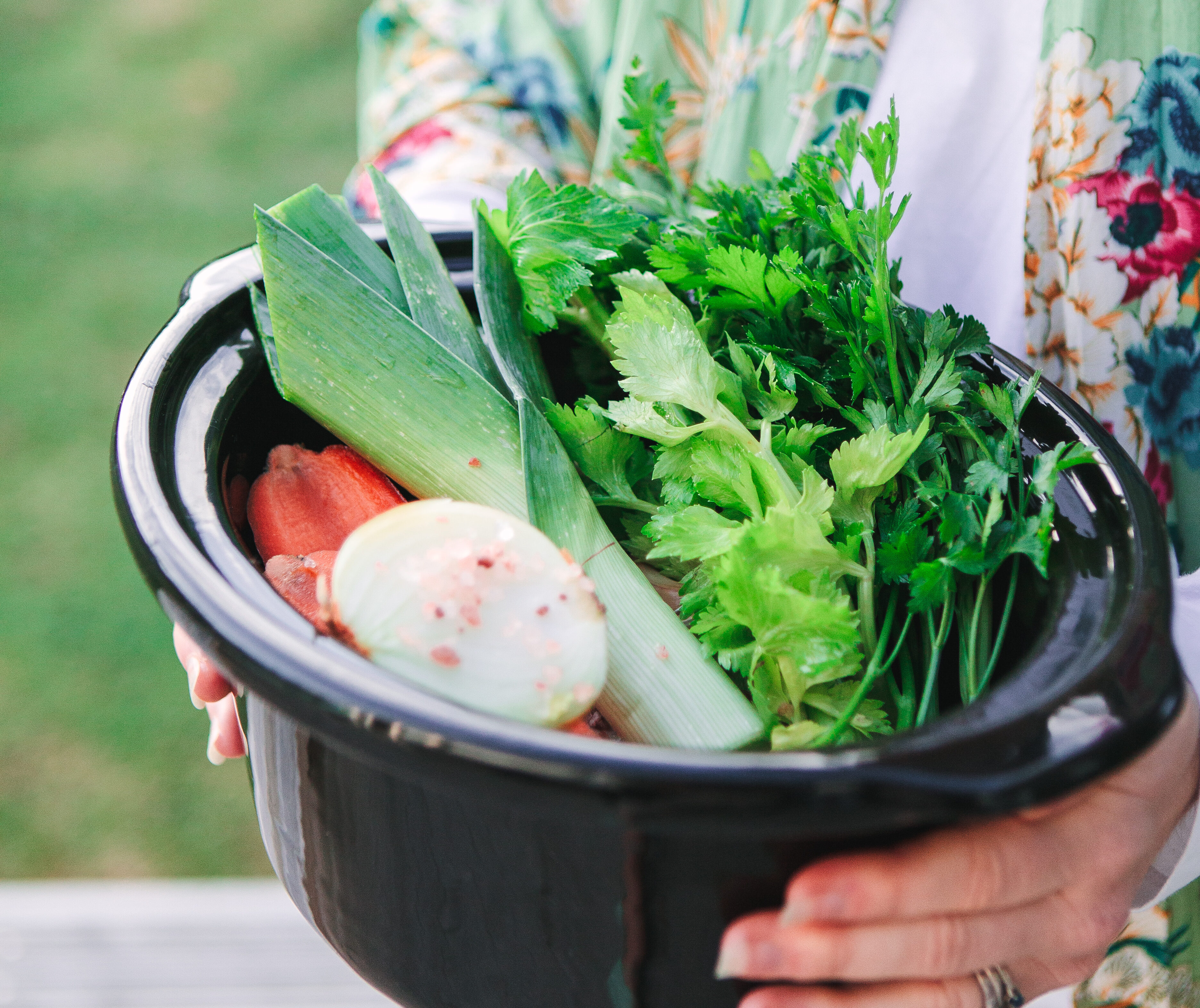 INGREDIENTS
Half an organic chicken (based on a size 14 chicken approx.)
1 leek, top removed, chopped in half
1 celery stick, halved
1 parsnip, cut in half lengthways
1 carrot, cut in half lengthways
1 onion, peeled and halved
2-3 garlic cloves
2 bay leaves
2 cm of fresh ginger
2 tablespoons of apple cider vinegar
1 handful of Italian parsley (stalks and all)
1 tablespoon of Himalayan Salt (coarse or ground)
8 cups of water
Suitable for:
Lunch | Dinner
Place all ingredients into a slow cooker and cook on low for a minimum of five to seven hours.
About five hours into cooking, take the chicken out. Separate the cooked chicken flesh from the bones. Set the chicken aside and place the bones back in the slow cooker for the remainder of the cooking time. (You can skip this step if you are not at home and leave the chicken flesh on for the whole cooking time.)
Cool broth, strain out the bones and vegetables and store the broth in containers or jars that can be refrigerated and frozen. Scrape off any fat that solidifies on the top.
Bone broth will last several days in the fridge and also freezes well.  
PROGRAMME NOTES
Keep one stick of celery aside for your dinner on Day 7 and then freeze the remaining celery for future batches of broth. If you are making this for two people. use a whole chicken and then once your broth is make add another 6 cups of water.
When cooking vegetables for other meals, put offcuts or leftovers of raw vegetables into snapback bags and freeze for future batches of broth. Ensure offcuts are clean before freezing.