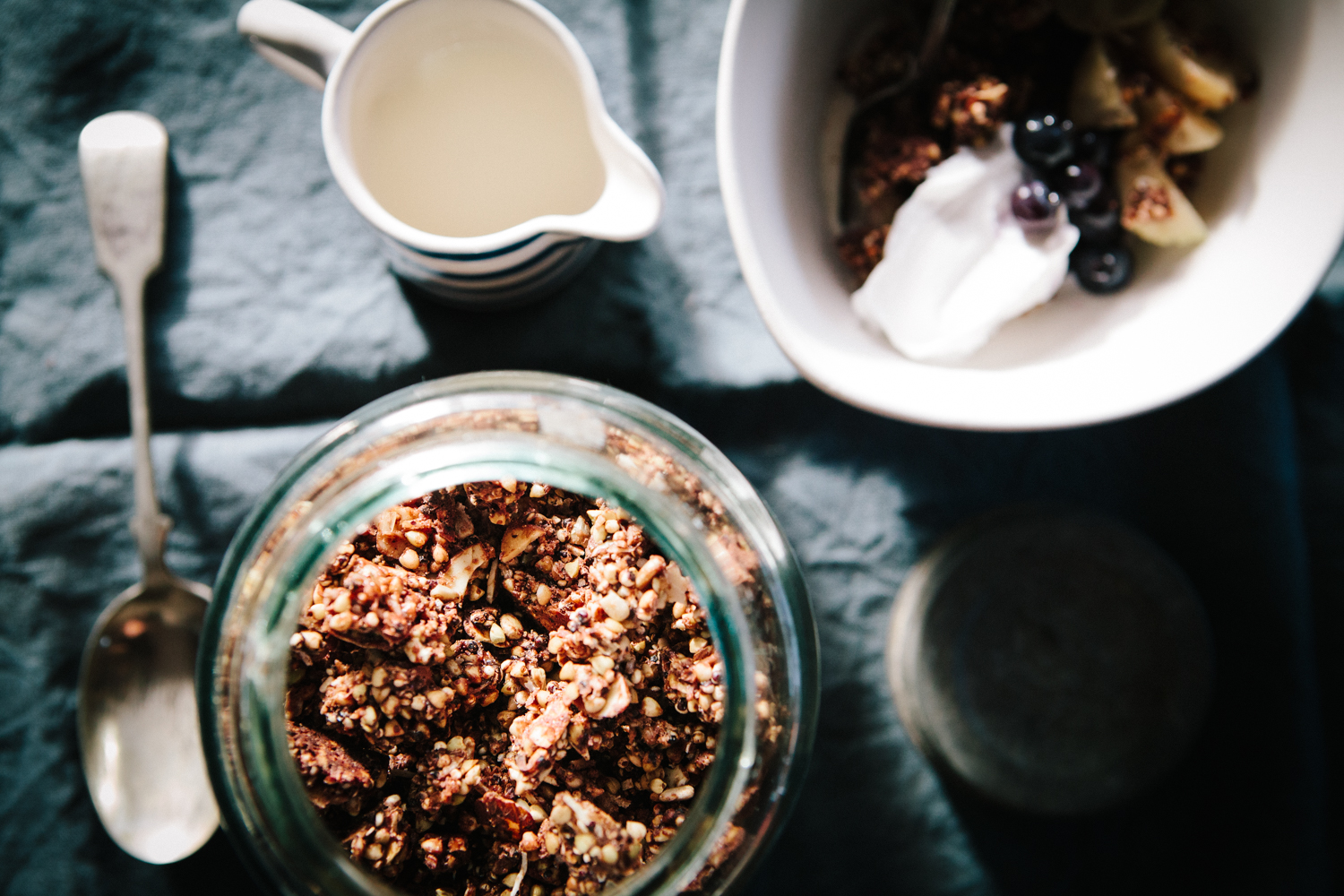 DRY INGREDIENTS
1 cup of buckwheat groats (or 1 and 1/2 cups if you are not using quinoa puffs)
1/2 cup of quinoa puffs (optional)
1 cup of coconut threads
1/2 cup of sliced almonds or other nuts (not cashews or peanuts)
1/4 cup of sunflower seeds
1/2 teaspoon of Himalayan or sea salt
LIQUID INGREDIENTS
1/4 cup of coconut oil, melted
1-2 tablespoons of rice syrup or honey
3 tablespoons of cacao powder
1 tablespoon of tahini
1 teaspoon of vanilla extract
1 teaspoon of cinnamon
TO SERVE PER PERSON
1 golden kiwifruit
1/2 cup of blueberries, fresh or frozen
1/4 cup of dairy free coconut yoghurt
1 teaspoon of Bestow Berry Beautiful
Serve with your favourite nut or seed milk
Suitable for:
Breakfast | Lunch | Dinner | Snack
Preheat oven to 150 degrees celsius.
Place all the dry ingredients in a large bowl and stir to combine.
Melt the coconut oil by placing a smaller bowl into a larger bowl of hot water or by gently heating in a small pot over a low heat.
Mix together all the liquid ingredients in a medium sized bowl. Pour over the dry ingredients and mix well. It will be sticky, chocolatey and clumpy.
Line a baking tray with baking paper and spread out your granola as evenly as possible.
Bake for 20 minutes, remove from the oven and allow to cool completely.
Break up the granola with your hands and place in an airtight container or lidded jar to be used when needed.
Serve 1/2 cup of granola with your favourite milk, yoghurt and fresh fruit such as golden kiwifruit and blueberries.
These Buckwheat Granola Clusters also make a great snack, especially as a mid-afternoon pick me up! This is another 'bressert' and feels so treaty but it is super nutritious and skin friendly!
CARRY-OVER NOTES
The Bestow way is to make once and eat twice!
You will use 1 cup of granola this week (1/2 cup for breakfast on Day Three and another 1/2 cup for breakfast on Day Four) and then the rest is for you to use either for breakfasts after the cleanse or as a snack option. It will keep in a sealed container.