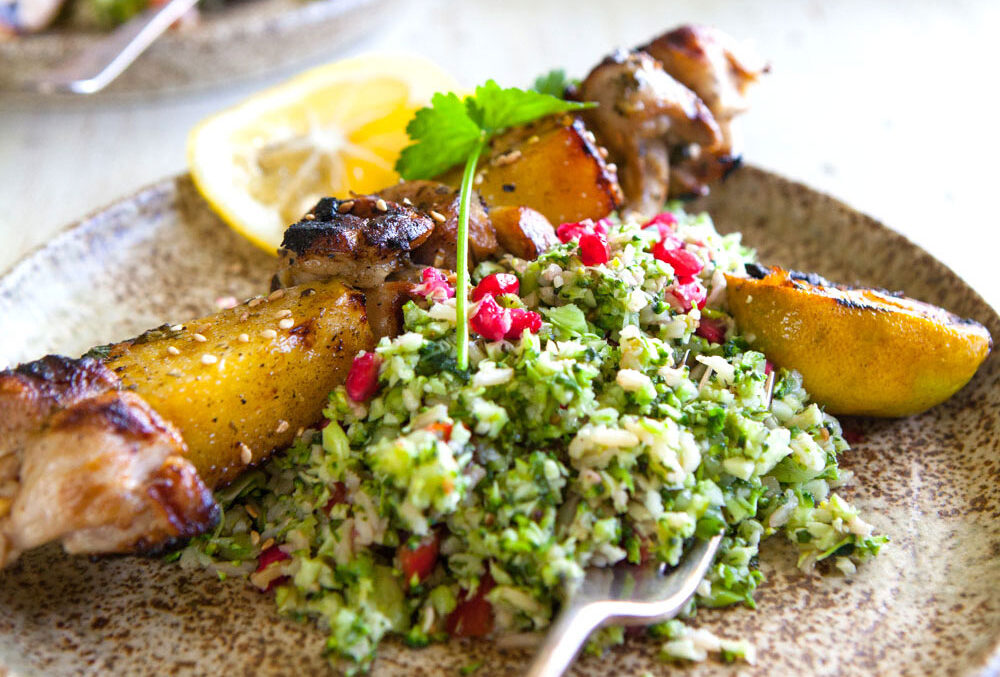 1/2 head of broccoli, stalk inlcuded
A small handful of Italian parsley, roughly chopped
A small handful of mint, roughly chopped
A small handful of coriander, roughly chopped
1/2 cup of cooked brown rice
4 cherry tomatoes, diced
1/4 telegraph cucumber, diced
Zest and juice of half lemon
1 pomegranate (optional)
1/2 tablespoon of Bestow Beauty Plus Oil (or Bestow Beauty Oil)
1/2 tablespoon of Bestow Beauty Powder
1/2 tablespoon of olive oil
Salt and pepper
1/4 cup of pumpkin seeds
1 clove of garlic, grated on a microplane or minced
Suitable for:
Breakfast | Lunch | Dinner | Snack
Process broccoli until bread crumb consistency. Add chopped herbs and pulse until finely chopped. Transfer to a bowl, add all other ingredients and mix until well combined.
Cut pomegranate in half and hold over bowl with tabbouleh, pick out seeds with a fork and let juice run in as well. Stir.
You will have two thirds with your dinner on Day One and reserve one third for dinner on Day Two.
Place in a sealed container in the fridge and served with meals as directed.
Green vegetables are full of vitamins and minerals that are essential for building healthy collagen. This is truly a skin-friendly blend of vegetables and won't leave you feeling bloated like many wheat-based tabbouleh's can do. 
CARRY-OVER NOTES
The Bestow way is to make once and eat twice!
Use two-thirds of the Broccoli Tabbouleh on Day One with your Chicken Skewers, and store the remaining one-third in fridge to serve with your Snapper Torillas w Pineapple Salsa on Day Two.