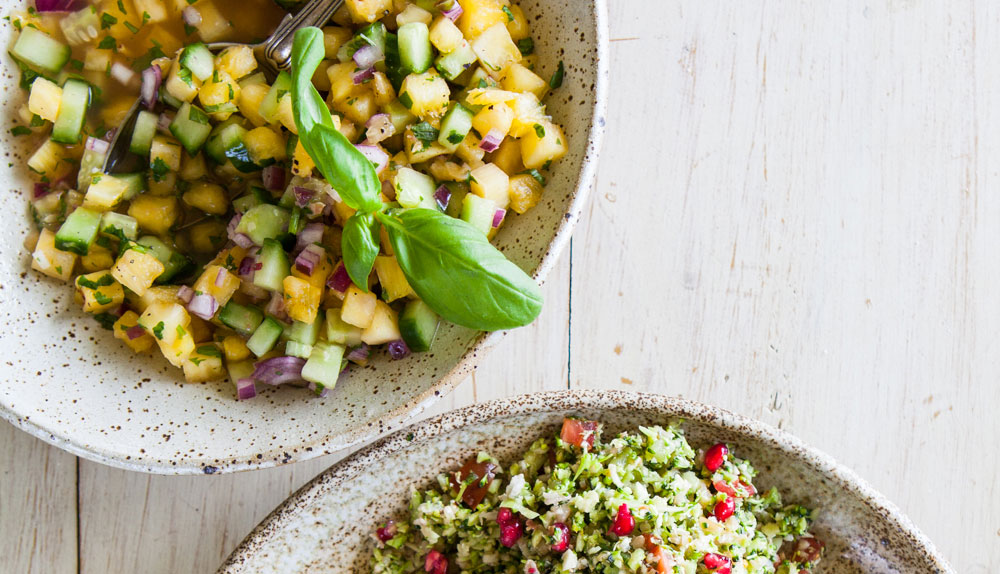 1/4 fresh pineapple
1/4 telegraph cucumber, finely diced
1/2 small red onion, finely diced
A small handful of coriander, chopped
A small handful of mint, chopped
Juice of 1 lemon
Salt and pepper
Optional:
1/4 capsicum, diced
1/2 tomato, diced
1/2 avocado, diced
Suitable for:
Side | Snack
Slice 3 rings of pineapple about 4-5 mls thick. Keep the remainder of the pineapple to freeze for smoothies (see below). Take the skin off and then finely dice the pienapple rings. Add the rest of the ingredients, with the diced pineapple, to a bowl and mix well.
Place the pineapple salsa in a sealed container in the fridge to be used as directed.
Cut the remaining pineapple into thicker rings and take the skin off. Chop and put in the freezer for smoothies. We find it easiest to store individual portions of pineapple in small snap-lock bags so they are easy to take out and use as needed. One pineapple ring cut into chunks is suitable for one smoothie.
Salsa is a great and versatile addition to many meals. The freshness of this salsa means it goes well with fish or chicken dishes and is a great side dish for any BBQ meal. It's also a great way to use up any leftover vegetables or herbs you have.

Red onions add a tangy flavour and are high in Vitamin A and C, two of the six essential skin nutrients. As well as this they are anti–inflammatory, perfect for those struggling with inflammation in the skin or body.
CARRY-OVER NOTES
The Bestow way is to make once and eat twice!
Used with your dinner on Day Two and your Goodness Bowl Day Three.