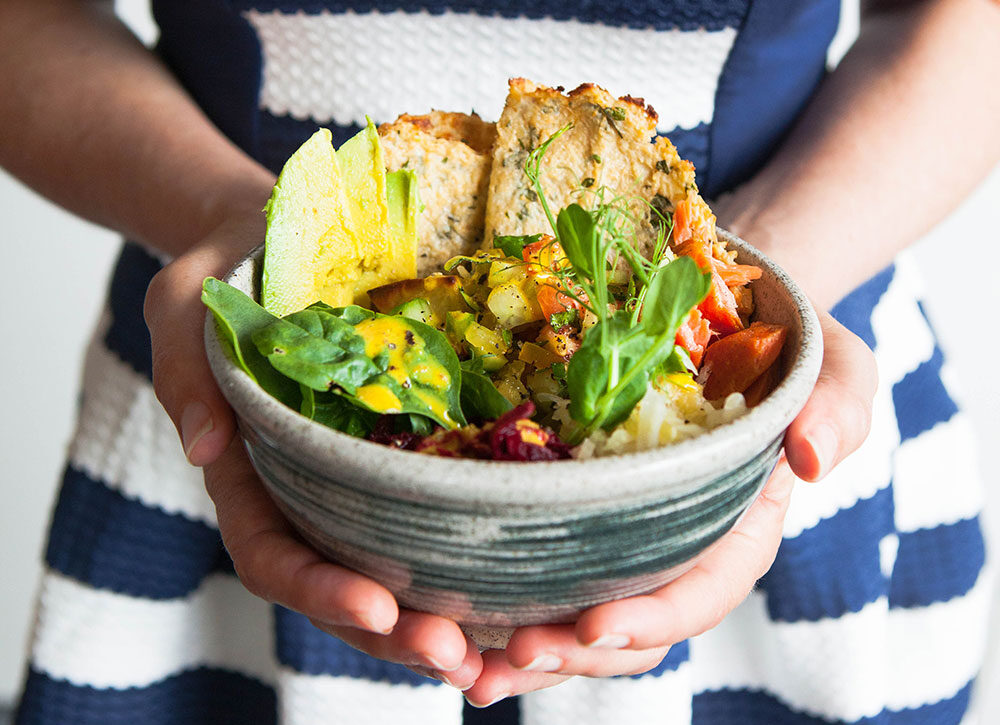 Serves one
2 Cauli Tortillas
1/2 avocado, sliced
Remaining Pineapple Salsa
1/2 to 1 cup of spinach leaves
1/2 cup broccoli, blanched
1 tin wild salmon, drained and mashed or smoked salmon (95g)
1/4 cup of sauerkraut (store bought)
1/4 cup of pickled beetroot
Himalayan salt
Cracked black pepper
Serve with Turmeric Dressing
Vegetarian and other options
We have used salmon in this bowl but any plant or animal based protein would work well.  Lentils are a plant-based protein option that would go nicely with this dish. 
Arrange the ingredients in a bowl, season to taste and drizzle with Turmeric Dressing.
The hero of this bowl is the tinned wild salmon. Because the salmon is full of bones it provides calcium which is needed for the body to build strong, healthy bones. 
This can easily be swapped for another plant based option for those who follow a vegetarian diet. For those who are vegan we would recommend a plant based protein and 1/2 cup of roasted sweet potato to replace the Cauli Tortillas.
Click the images below to view the recipes for the Turmeric Dressing, Pickled Beetroot and Pineapple Salsa.