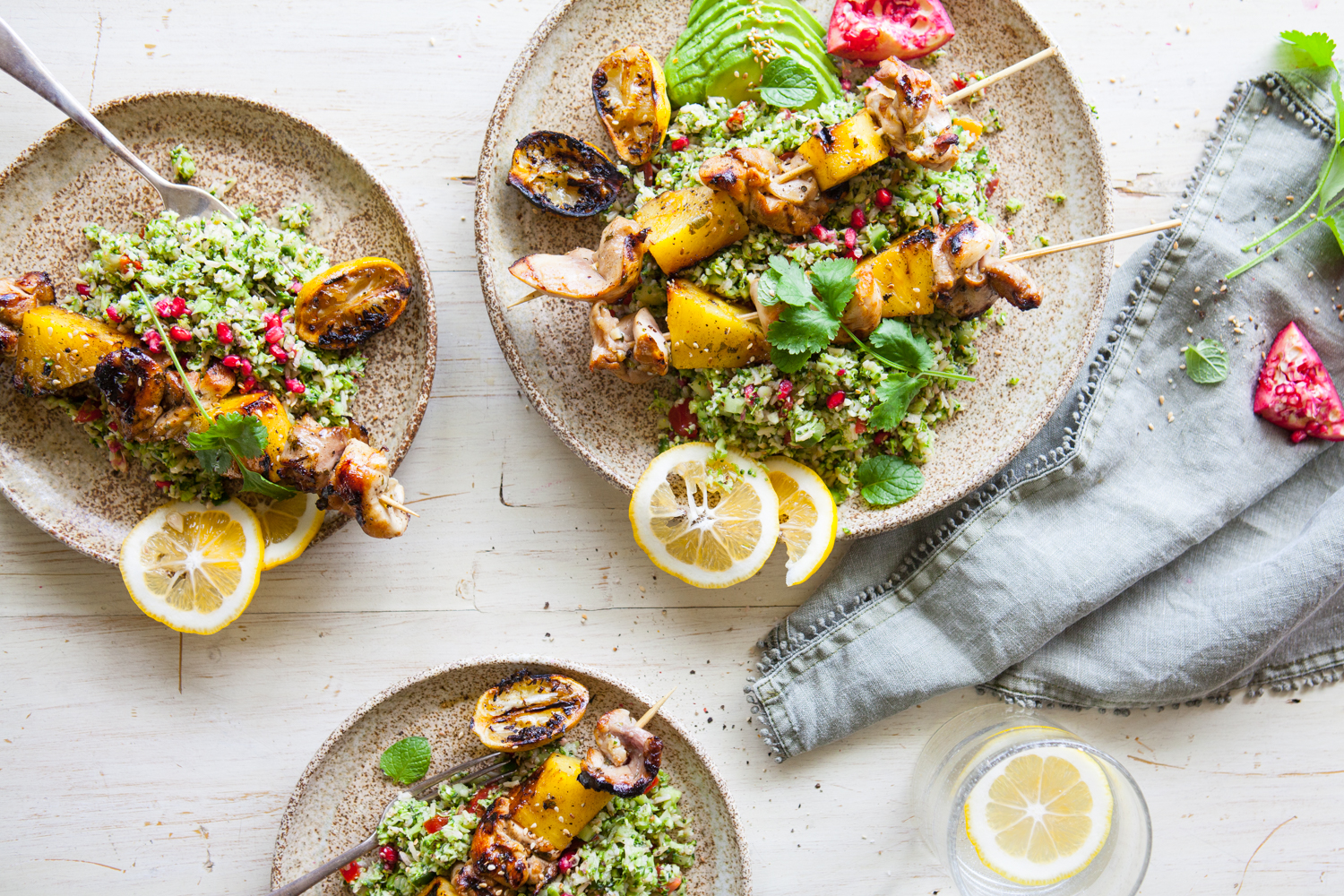 Serves one
2 medium chicken fillets (1 for dinner, 1 for lunch tomorrow)
1/4 fresh pineapple
For the Marinade
Juice of 2 limes or 1 lemon (keep limes or lemons to grill)
1 tablespoons of olive oil
A small handful of coriander, roughly chopped
A small handful of mint, roughly chopped
1 clove of garlic, finely chopped
Salt and pepper
Serve with:
1/2 avocado, sliced
1/2 tablespoon sesame seeds
2/3 of Broccoli Rice Tabbouleh
Suitable for:
Breakfast | Lunch | Dinner | Snack
Vegetarian and other options
You could swap out the chicken for other animal proteins such as fish or lean red meat. Tofu is another option. Alternatively, you could add other vegetables to your skewers such as mushrooms, capsicum and zucchini. 
Place the chicken fillets in metal or glass dish or snaplock bag. Put all marinade ingredients in a jar and shake well. Pour over chicken and leave overnight to marinate – alternatively leave for 30 minutes minimum.
Cut the pineapple into rings and then pieces. Cut one of the chicken fillets into pieces.  Thread the chicken and pineapple onto bamboo skewers. Cook over BBQ or grill.
Grill lime pieces to caramalise and use the extra juice to squeeze over chicken.
At the same time as you cook your skewers, BBQ or grill your remaining chicken fillet. Once it is cooked and cooled, shred and place in an airtight container for the Goodness Bowl on Day Two.
Serve with Broccoli Rice Tabouli, sliced avocado and sesame seeds.
We like to use organic, free range chicken where possible. If you choose to change the protein option to fish, lean read meat or tofu, marinate as we have done with the chicken. Alternatively if you choose to use extra vegetables such as mushrooms, capsicum and zucchini then you can skip the marinating  and instead use the marinade to pour on after cooking the skewers. 
Pineapple is high in vitamin C, an essential skin nutrient, and in anti-oxidants, which help fight free-radicals which can cause premature ageing.
CARRY-OVER NOTES
The Bestow way is to make once and eat twice!
Use one chicken fillet for your Chicken Skewers. Cook the second fillet at the same time as your skewers, then cool, shred and place in an airtight container in the fridge for your Goodness Bowl on Day 2.
Click the image below to view the recipes for Broccoli Rice Tabbouleh.