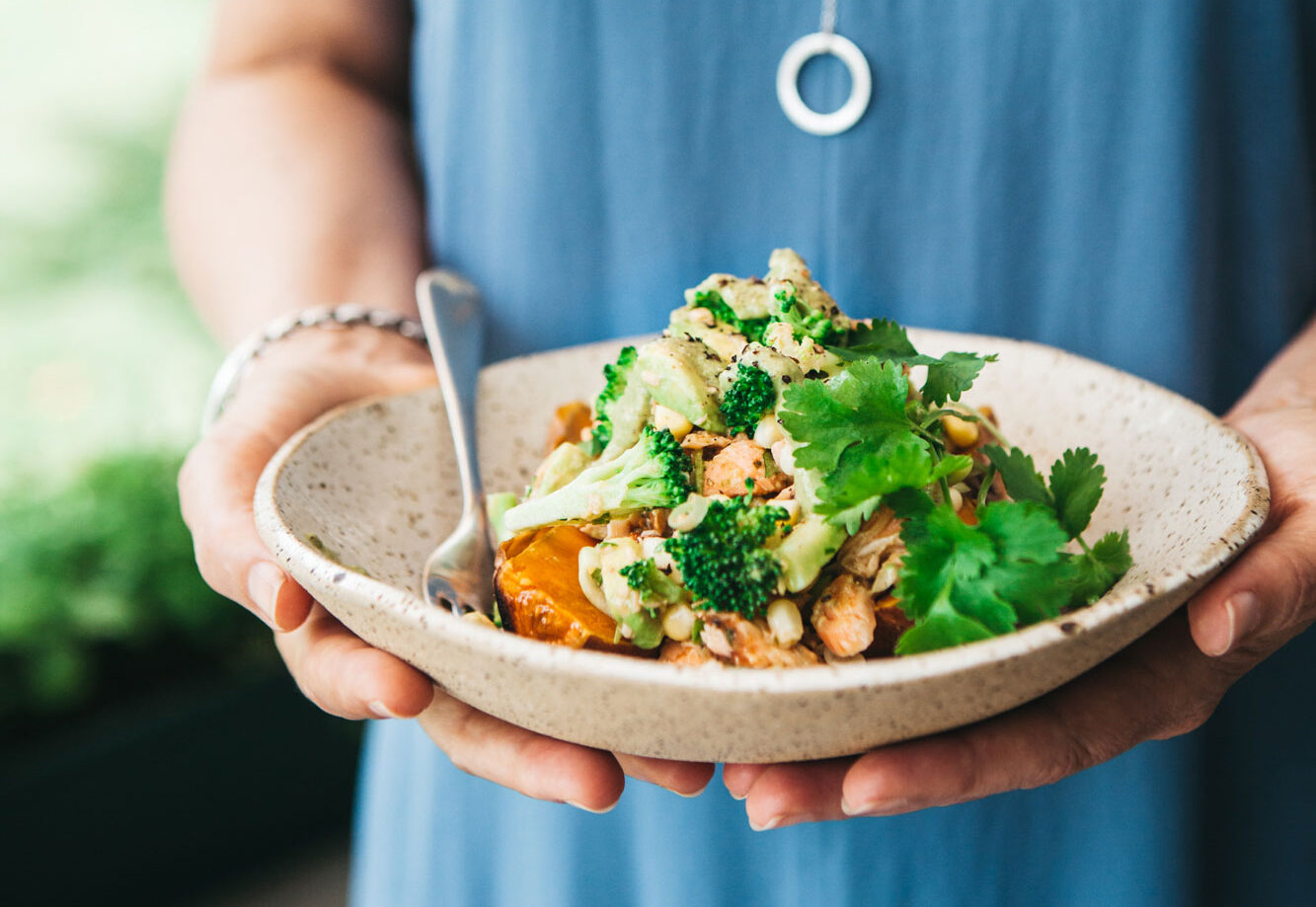 FOR THE SWEET POTATO
1 medium sized sweet potato
Olive oil for cooking
Himalayan or sea salt and pepper
FOR THE MEGA TOPPING
75gm of smoked salmon
1/2 avocado, chopped
1 spring onion, sliced
1 corn on cob, (remove kernels and blanch)
2 broccoli florets, chopped and blanched
1 tablespoon of coriander, chopped
Himalayan or sea salt and pepper
SERVE WITH
1 tablespoon of Bestow Lemony Vinaigrette
Suitable for:
Breakfast | Lunch | Dinner | Snack
Vegetarian and other options
The salmon in this recipe can be substituted for any other plant or animal based protein. Chickpeas, beans or lentils are plant-based options that would go nicely in this dish.
Preheat the oven to 180 degrees celsius.
Drizzle the whole sweet potato (with its skin) with a little olive oil and season with salt and pepper. Place in the oven to roast for approximately 20 minutes. Test that it is cooked by inserting a skewer or fork to see if it is soft.
Mix all of your topping ingredients together in a bowl.
Slice your sweet potato lengthwise. Spoon over the topping mixture, season with salt and pepper and serve with Bestow Lemony Vinaigrette.
You could also make this recipe by roasting half a buttercup instead of the sweet potato.
This is a very easy and quick dinner, especially if you have already baked the sweet potato earlier in the day. This is also a great meal for you to get creative with your toppings, using vegetables and protein you have leftover or alternatives you have prepared. For those who choose to follow a vegetarian or vegan diet, just swap the smoked salmon for any other plant=based protein such as beans, lentils or chickpeas.