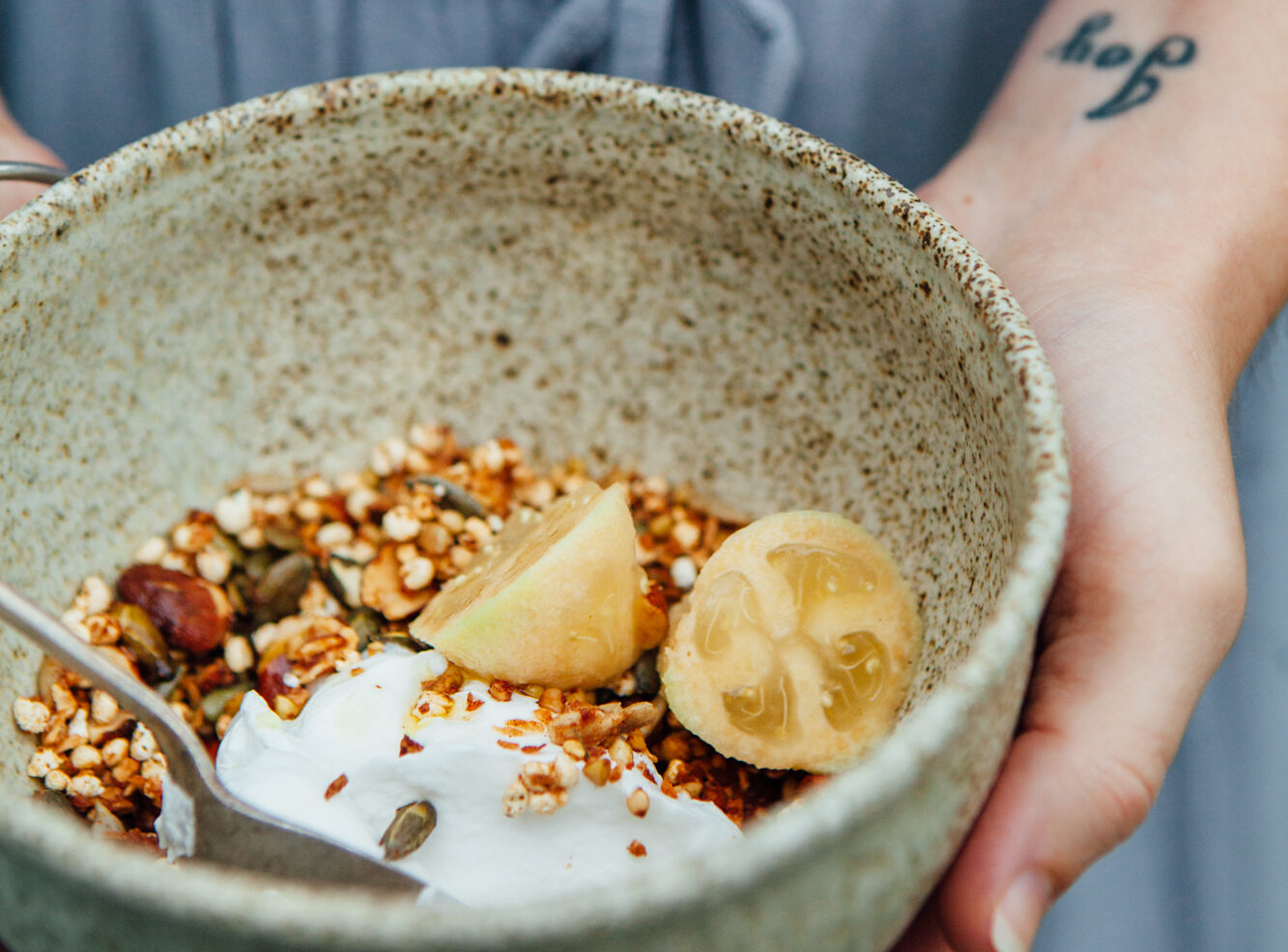 INGREDIENTS
Makes 3½ cups (approx.)
1 serving = ¾ cup
1 cup of puffed millet
½ cup of buckwheat groats
½ cup of almonds, roughly chopped
½ cup of sunflower seeds
½ cup of pumpkin seeds
¾ cup of long thread coconut or coconut chips (unsweetened)
2 tablespoons of coconut oil, melted
1 tablespoon of rice syrup
1  teaspoon of pure vanilla essence
¼ teaspoon of salt
½ teaspoon of cinnamon
½ teaspoon of ginger
To serve
¼ cup of coconut yoghurt (dairy free)
½ cup of fresh or frozen berries (not strawberries as they can inflame the skin) or other fruit in season.
1 teaspoon of Bestow Berry Beautiful
Suitable for:
Breakfast | Snack
Pre-heat oven to 150 degrees celsius and line a baking tray with baking paper. Mix all ingredients together in a large bowl and spread evenly over tray. Bake in the oven for 30 minutes until golden brown. Stir halfway through cooking to ensure an even bake, as the coconut tends to cook quickly on the edges. Remove from the oven and cool completely before placing in a lidded jar or sealed container.
Serve with your favourite nut or seed milk, coconut yoghurt and fruit and sprinkle over Bestow Berry Beautiful.
Granola is a nutritious and delicious way to start your day and provides your body with lots of skin-friendly vitamins, nutrients and healthy fats. It is also satiating, giving you plenty of energy until lunch time. Bestow Berry Beautiful is a  super anti-oxidant booster, containing delicious berry and fruit powders to protect skin from the ageing affects of free radicals. 
If serving the granola as a snack, we recommend mixing it with 1/4 of a cup of coconut yoghurt and a few berries. Alternatively, you can enjoy it as it is!