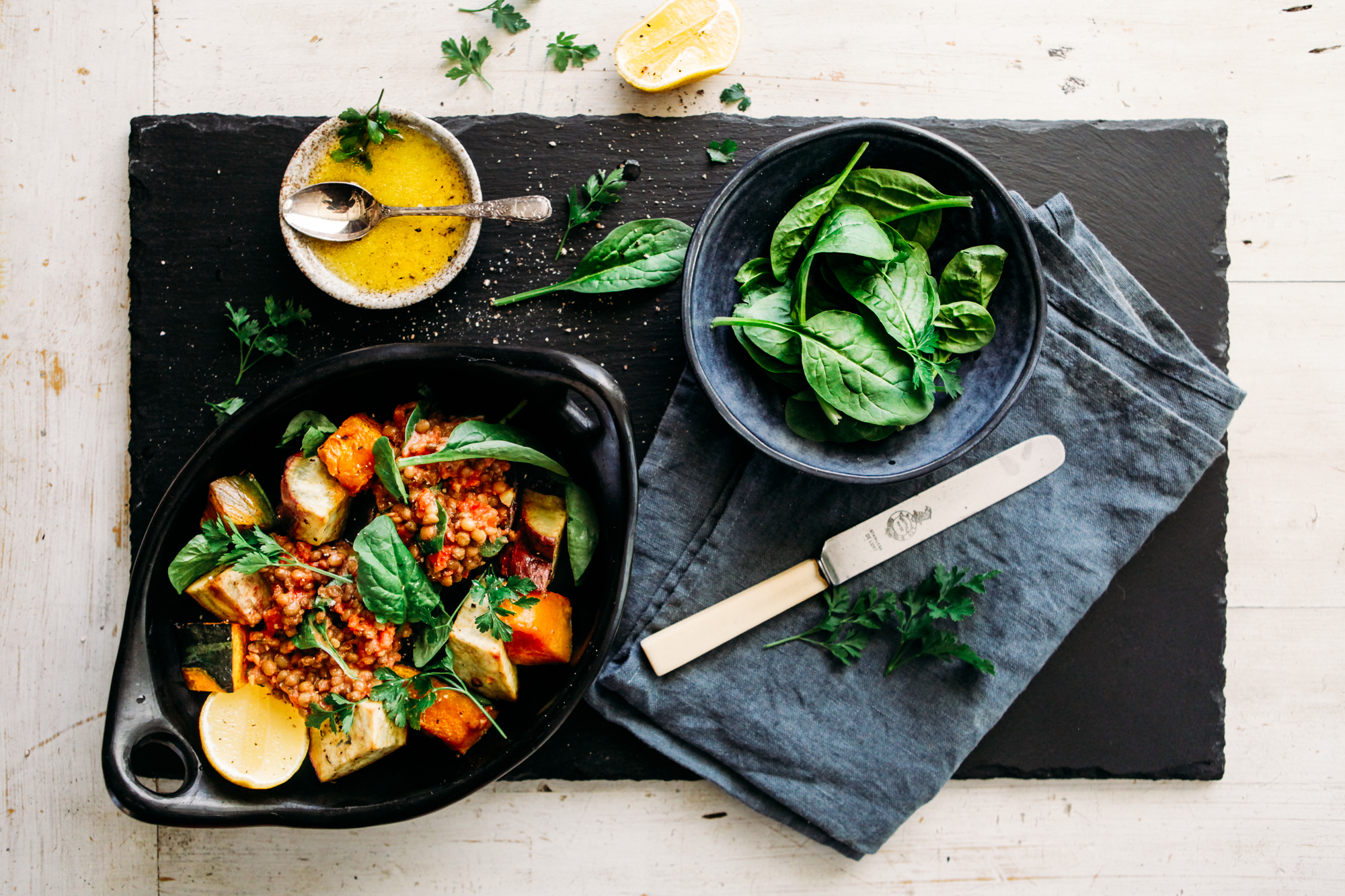 INGREDIENTS
2 tablespoons olive oil
1 purple sweet potato (kumara), chopped into chunks
½ buttercup pumpkin, chopped into chunks (skin on)
Himalayan salt to season
3 portobello mushrooms
1 400 gram can of lentils (brown or green), drained and rinsed
½ a 400 ml can of unsweetened coconut milk
½ a 400 gram can of chopped tomatoes
2 teaspoons of curry powder
1 garlic clove, finely chopped
1 good handful of thyme sprigs or 1 tablespoon of dried thyme
1 cup of fresh spinach leaves (plus a little extra to serve)
½ a lemon, juiced
1 tablespoon of Bestow Beauty Plus Oil
1 small handful of parsley to serve
Suitable for:
Lunch | Dinner
Preheat oven to 200 degrees celsius and line an oven tray with baking paper.
Place sweet potato and pumpkin in a bowl and stir through one tablespoon of olive oil and salt and pepper until coated. Cut out the stem from the portobello mushrooms and place the mushrooms bottom-side down on the tray. Drizzle a little olive oil over the mushrooms and season well.
Place sweet potato, pumpkin and mushrooms on the tray. Top with sprigs of thyme.
Place in the oven and cook for 25 minutes.
While the veggies are cooking, heat one tablespoon of olive oil in a small saucepan, add the garlic and curry powder and gently cook for a couple of minutes over a low heat. Add the drained lentils, coconut milk and tomatoes, bring to the boil and then turn down and simmer for five minutes. Stir in the spinach leaves and set aside.
Remove the veggies from the oven and serve 2 portobello mushrooms for dinner with about 1 cup of roasted pumpkin and sweet potato. Pile large spoonfuls of lentil mixture over the mushrooms. Scatter with fresh parsley and extra spinach leaves. Mix lemon juice and Bestow Beauty Plus Oil together and drizzle over your meal.
Reserve 1 portobello mushroom, the leftover lentils and 1 cup of sweet potato and pumpkin for your Comfort Bowl tomorrow. Place the remaining sweet potato and pumpkin in a container in the fridge to use in your Egg N Roast Veg Scramble breakfast on Day 7.
Mushrooms have an abundance of vitamin B to help keep your skin healthy. Vitamin B must be present in order for Essential Fatty Acids to be utilised in the body and helps to keep skin sebum flowing freely (preventing breakouts and blockages).  Vitamin B also supports stress resilience and boosts energy levels.