INGREDIENTS
250 ml of almond milk
1½ tablespoons of cacao powder
1 tablespoon of tahini
1-2 medjool dates (or 1 teaspoons of honey or rice syrup)
½ a banana (frozen on prep day)
1 tablespoon of cacao nibs
1 teaspoon of blackstrap molasses
1 tablespoon of Bestow Beauty Oil or Beauty Plus Oil
1 dessertspoon of Bestow Beauty Powder
1 teaspoon of Bestow Gut Love +
1 teaspoon of chia seeds
Suitable for:
Breakfast | Snack
Add all elements to your blender, blend well and enjoy.
Sprinkle with extra cacao nibs and chia seeds if desired.
Cacao powder is a great way to get that chocolatey taste and feeling of indulgence with the added benefits of providing your body with nutrients such as magnesium and antioxidants. Tahini, which is made from sesame seeds, contributes to the creamy texture and gives the body a calcium boost. The chia seeds in the smoothie are bound to keep you full providing the body with fibre to help with gut health.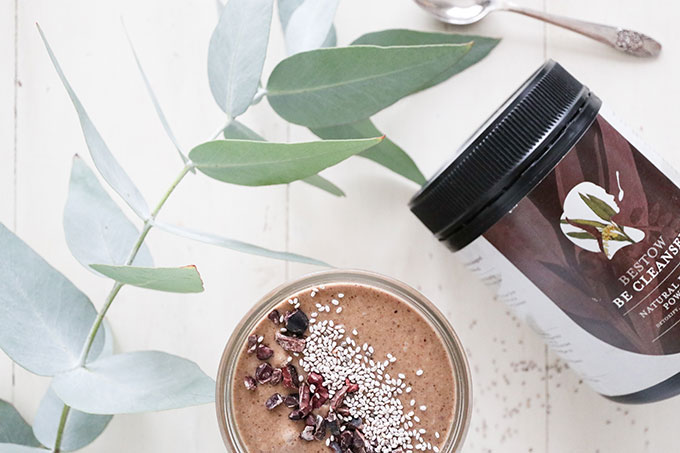 YOUR RDI Hero Snack
Your Bestow Skin Essentials Smoothie gifts your body a significant contribution towards the Recommended Daily Intake (RDI) of many important nutrients. (See list below). For example, you get close to half your daily fibre needs and 60% of your vitamin A from this one smoothie.  It also gives the body a good dose of calcium which is otherwise hard to get. This is done through the molasses and almond milk, both of which have high levels of calcium. Not bad for an afternoon snack!
We have set the Bestow Smoothie Ritual as an afternoon snack to avoid a blood-sugar dip. However you can choose to have it any time of day, depending on when you feel your body most needs the boost. Another option is to include this with your breakfast or another meal of choice during the day if you prefer.
RDI's % of Key Nutrients Supplied
in Bestow Skin Essentials Smoothie
*Please note that the Bestow Skin Essentials Smoothie contains OVER 100% of these 4 nutrients.
To learn more about RDI's and the importance of these micro-nutrients
for avoiding disease and enjoying optimum health download the PDF below: