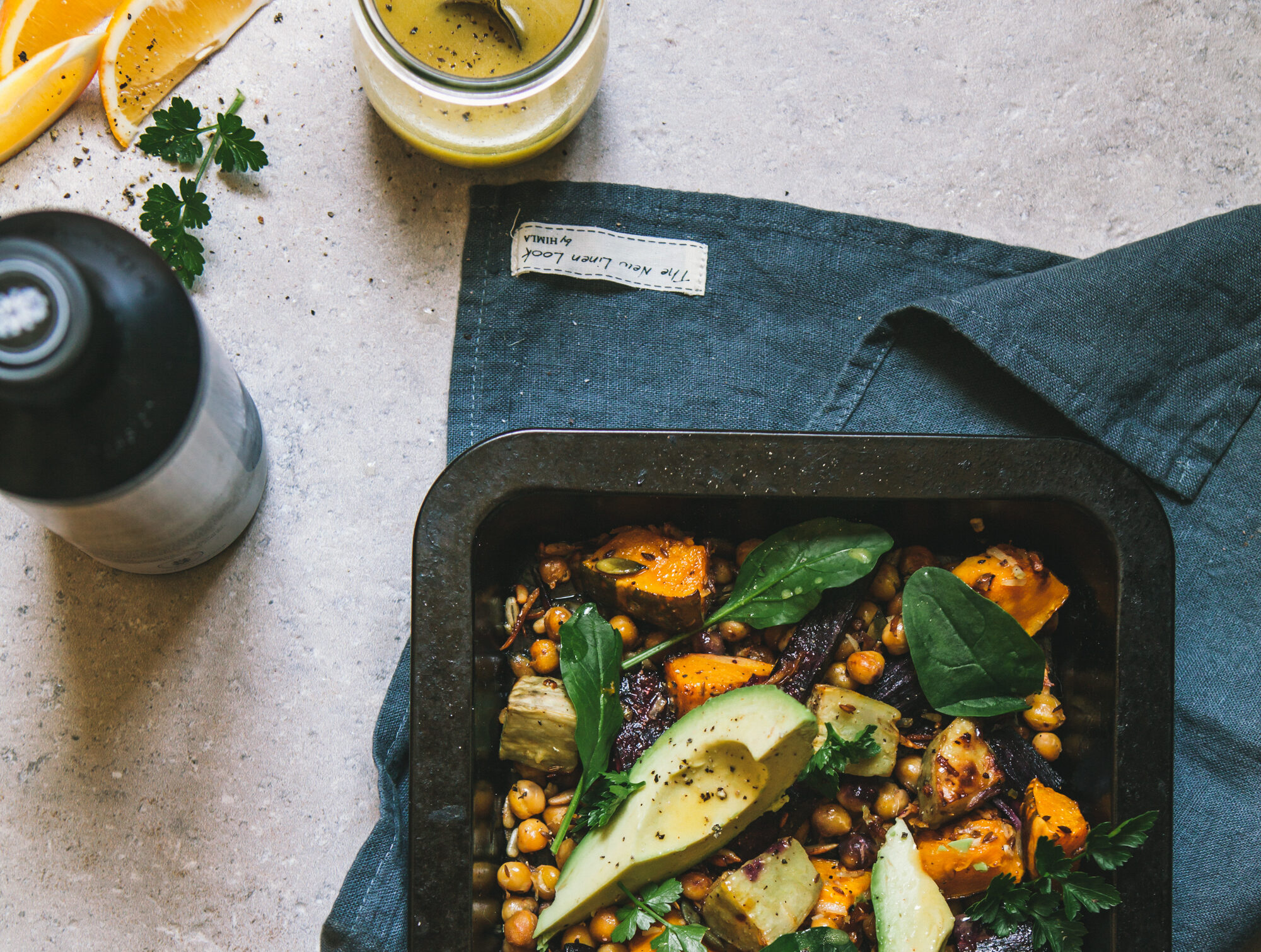 INGREDIENTS
¼ of a buttercup pumpkin, chopped into chunks
1 medium sweet potato, peeled, chopped into chunks
1 carrot, peeled and chopped into chunks
1 can of chickpeas, drained well
2 tablespoons of olive oil
1 teaspoon of tamari
¼ cup of long thread coconut
1 teaspoon cumin seed
1 tablespoon pumpkin seeds
1 tablespoon sunflower seeds
Himalayan salt to season
Cracked black pepper to season
To serve
Bestow Lemon Vinaigrette
¼ of an avocado
½ a cup of spinach leaves
Protein swap
You are more than welcome to add any plant or animal based protein to this recipe.
Suitable for:
Breakfast | Lunch | Dinner
Preheat oven to 200 degrees celsius and line a baking tray with baking paper.
Place chopped buttercup pumpkin, sweet potato, carrot and chickpeas in a bowl. Add olive oil, tamari, coconut, cumin seeds, pumpkin seeds, sunflower seeds, chickpeas, and salt and pepper to taste.
Stir well and spread evenly out on the tray. Place in the oven and roast for 20-25 minutes, stirring once after 10 minutes.
Serve half with Bestow Lemon Vinaigrette avocado and spinach. Reserve the other half for dinner tonight.
This dish is full of colour and crunch from the roasted chickpeas and coconut. We find that doing a one pan meal like this where you mix a range of veggies together is so easy for lunch and then to have the leftovers for dinner or the next day. A splash of tamari gives a taste hit and brings something different. Pair this with some healthy fat from the avocado or salmon and then of course a bunch of leafy greens and you have a complete meal full of the key nutrients needed for skin and overall health.