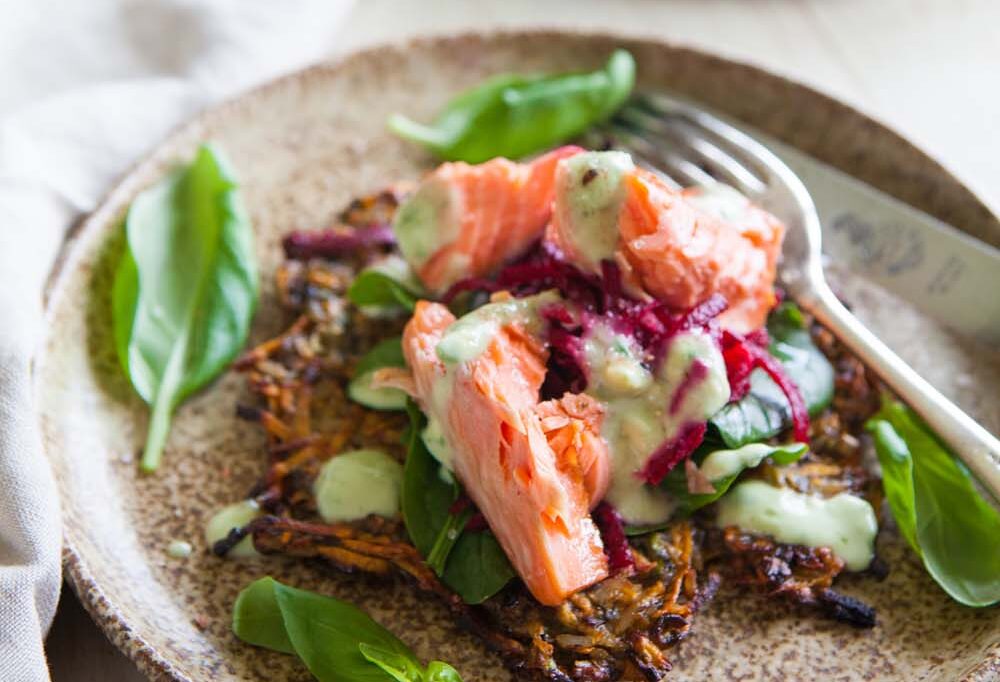 Makes 8
2 medium sweet potatos (kumara), grated (produces approx 6 cups)
4 spring onions, finely chopped
3-4 eggs, lightly beaten (4 if small eggs)
A handful of basil or parsley (or mixture of both) – optional
2 tablespoon of rice flour
Himalayan salt and cracked black pepper
Olive oil (for brushing)
FOR ONE SERVING
75g smoked salmon
1/2 to 1 cup spinach leaves
Fresh basil
1/4 cup of pickled beetroot
DRESSING TO SERVE
Creamy Avo Sauce
Suitable for:
Breakfast | Lunch | Dinner | Snack
Vegetarian and other options
We have served these with salmon, however they can be served with most other animal or plant based proteins. 
Freezer Friendly
These are best stored in the freezer with baking paper between them so they don't stick. They can be kept in the freezer for 3-4 months. When using take from the freezer with enough time to thaw. Then reheat in the oven at 180 degrees celsius for 5-10 mins or in a fry pan on medium heat. 
Preheat oven to 200 degrees celsius.
Line an oven tray with baking paper and brush with olive oil.
Grate the sweet potato – either by hand or in a food processor. Place in a large mixing bowl and add all other ingredients. Mix well.
Place large spoonfuls of the mixture on to the prepared baking tray and flatten. Ideally they should be 10 to 12 centimetres in diameter.
After 10 minutes of cooking brush them with a little olive oil and return to the oven for another 10 minutes.
Serve 2 rostis with other ingredients listed.
Sweet potato is full of skin friendly vitamins and minerals. Vitamin A is particularly high and helps with skin healing, perfect for those who need support in this way. 
In these rostis you can use any type of sweet potato, we have tried it with both purple and orange and both work well.

We also love these as a snack, just top with your favourite topping, some avocado or sauerkraut and enjoy!
This meal can be made vegetarian by swapping the protein for a plant based option. It can not be made vegan as there is no replacement for the eggs in the Sweet Potato Rostis. We would instead recommend for those who follow a vegan diet to just cube and roast the sweet potatoes instead of making rostis.
CARRY-OVER NOTES
Store in an airtight container in the fridge. Use 1-2 rostis for breakfast on Day 4 and 5, use 2 for dinner on Day 4 and 2 for lunch on Day 5.
Click the images below to view the recipes for the Avo Sauce and the Pickled Beetroot.