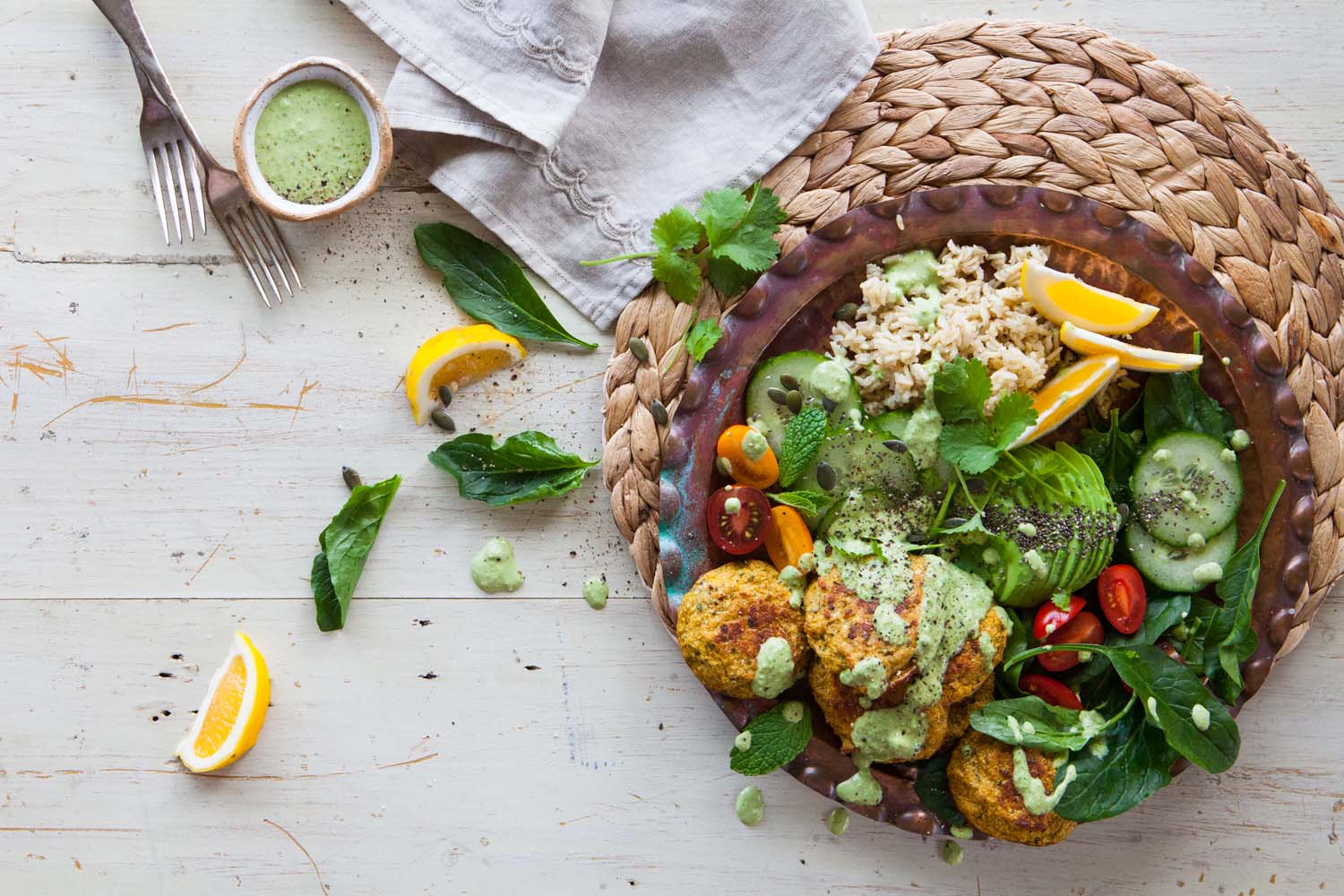 Makes 6
1.5 cups of cauliflower, processed (this is about one third of a medium sized cauliflower)
1 small onion, chopped
1 small handful of coriander, chopped
1 small handful of parsley, chopped
1-2 eggs, beaten
1.5 tablespoons of rice flour
1 garlic clove, chopped
1 teaspoon of cumin, ground
1/4 teaspoon of turmeric, ground
1 teaspoons of sesame seeds
Himalayan salt
Cracked Black Pepper
Serve with
1/2 cup cooked brown rice
1/2 avocado, sliced or chopped
1/4 small cucumber, sliced
2 cherry tomatoes, halved
1/2 tablespoon pumpkin seeds
1/2 to 1 cup spinach leaves
1 teaspoon chia seeds
Fresh herbs such as mint, coriander and basil
Lemon wedges
Creamy Avo Sauce
Suitable for:
Breakfast | Lunch | Dinner | Snack
Freezer Friendly
These are best stored in the freezer with baking paper between the layers. They can be stored for around 3-4 months. Remember to defrost with enough time before serving. Best reheated in the oven at 200 degrees celsius for 5-10 mins.
Place cauliflower in a food processor and pulse. Add all other ingredients, except the sesame seeds, to the processed cauliflower. Pulse in the processor altogether until fine breadcrumb consistency, season well with salt and pepper. Shape large dessertspoonfuls of mixture into a ball (a bit smaller than a golf ball), place onto a baking tray, lined with baking paper and brushed with olive oil. Flatten with your fingers. Mixture will be quite wet which is ok.  Sprinkle with sesame seeds. Bake for 10 mins at 200 degrees celsius, remove from the oven and brush with olive oil. Return to the over to bake for another 10 mins.
Plate with ingredients to serve. Drizzle with creamy avo sauce.
Beyond the cleanse, these are perfect to make and have throughout the week for dinners and lunches. You could even have one or two as a snack!
Feel free to use other herbs such as basil or mint. Get creative with your herb and spice combinations, using what you have in the fridge and pantry.
You can make an egg free version if you substitute the eggs with chia or flax egg. 
CARRY-OVER NOTES
The Bestow way is to make once and eat twice!
Serve 3 falafels with your dinner and store the remaining 3 in a sealed container in the fridge for your Goodness Bowl on Day 4. If you managed to make more from this recipe, store them in the freezer to use when your cleanse week is finished.
Click the image below to view the recipe for the Creamy Avo Sauce