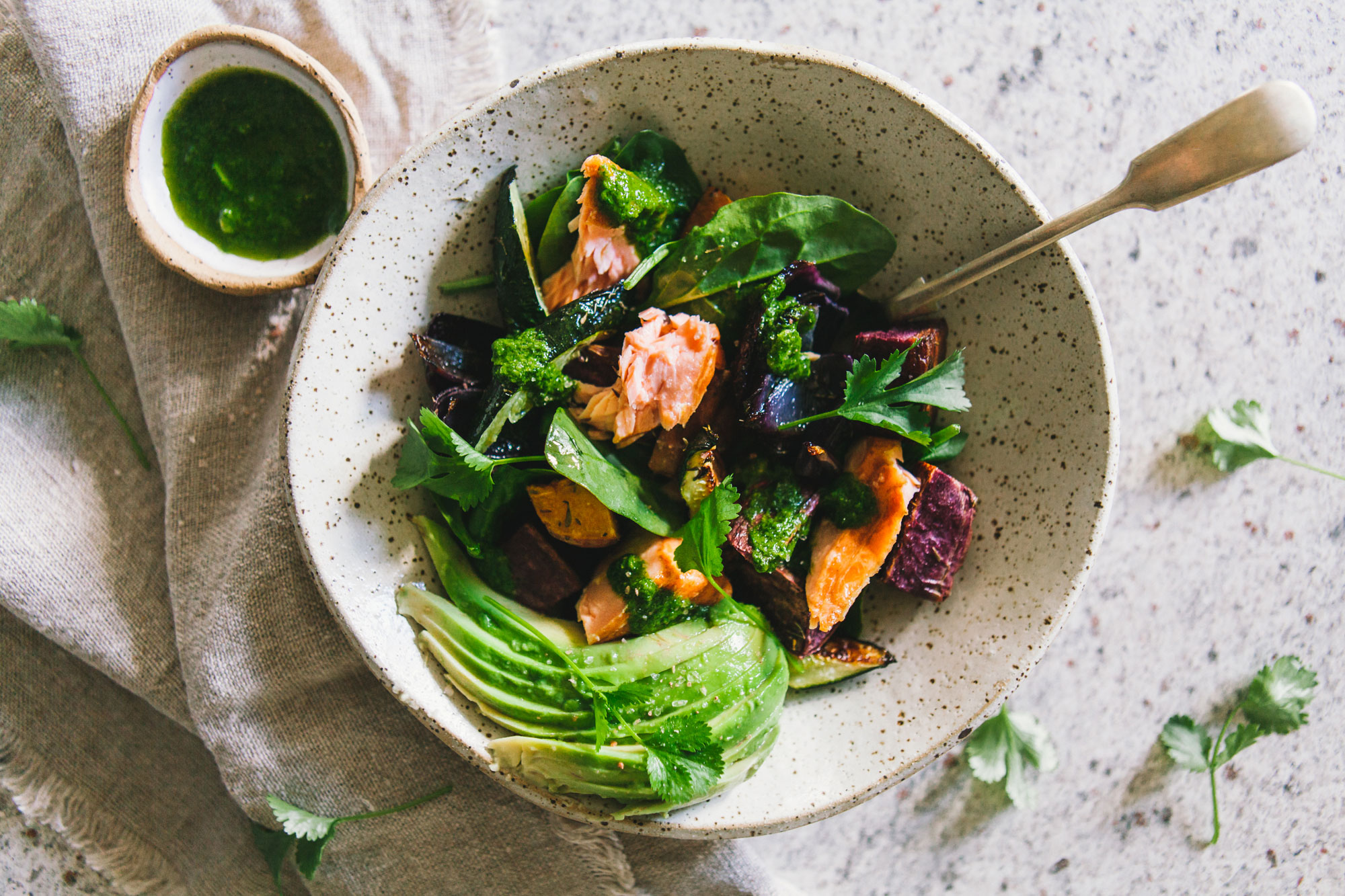 INGREDIENTS
2 medium sweet potatoes, cut into chunks
1 red onion, peeled and cut into eighths
2 tablespoons of olive oil
1 teaspoon of dried herbs (mixed)
Himalayan salt to season
2 zucchini, cut into diagonal chunks
Serve with
150g of smoked salmon
½ avocado, sliced (optional)
1 cup of fresh spinach leaves
8 broccoli florets, blanched
Bestow Coriander Pesto
2 servings
Suitable for:
Lunch | Dinner
Preheat oven to 200 degrees and line a tray with baking paper. Place the sweet potato and red onion into a bowl with the dried herbs and olive oil, mix to evenly coat.  Spread vegetables evenly onto the tray. Season with salt. Now add the zucchini chunks to the bowl and mix to coat, set aside. Roast the sweet potato and red onion for 30 minutes then remove from the oven and add the zucchini roast for a further 10 minutes.
If you are following the Love Your Gut Programme please see the programme notes below.
Place the roast vegetables into a bowl, add the salmon, spinach, broccoli and avocado (if in season). Serve with pesto.
PROGRAMME NOTES
This recipe is for two servings so for the programme you will need to halve the amount of salmon and avocado for one dinner serving. Then also reserve half of all the cooked vegetables and place in a container in the fridge for Healing Bowl Day 7 lunch.
Did you know dried herbs have high antioxidant levels? Although some vitamins and minerals are lost during the drying process, because dried herbs are used in a more concentrated form,  you usually receive the same nutrients as you would get with fresh herbs. When you don't have fresh herbs available, its good to know that dried herbs have quite a lot to offer nutritionally.