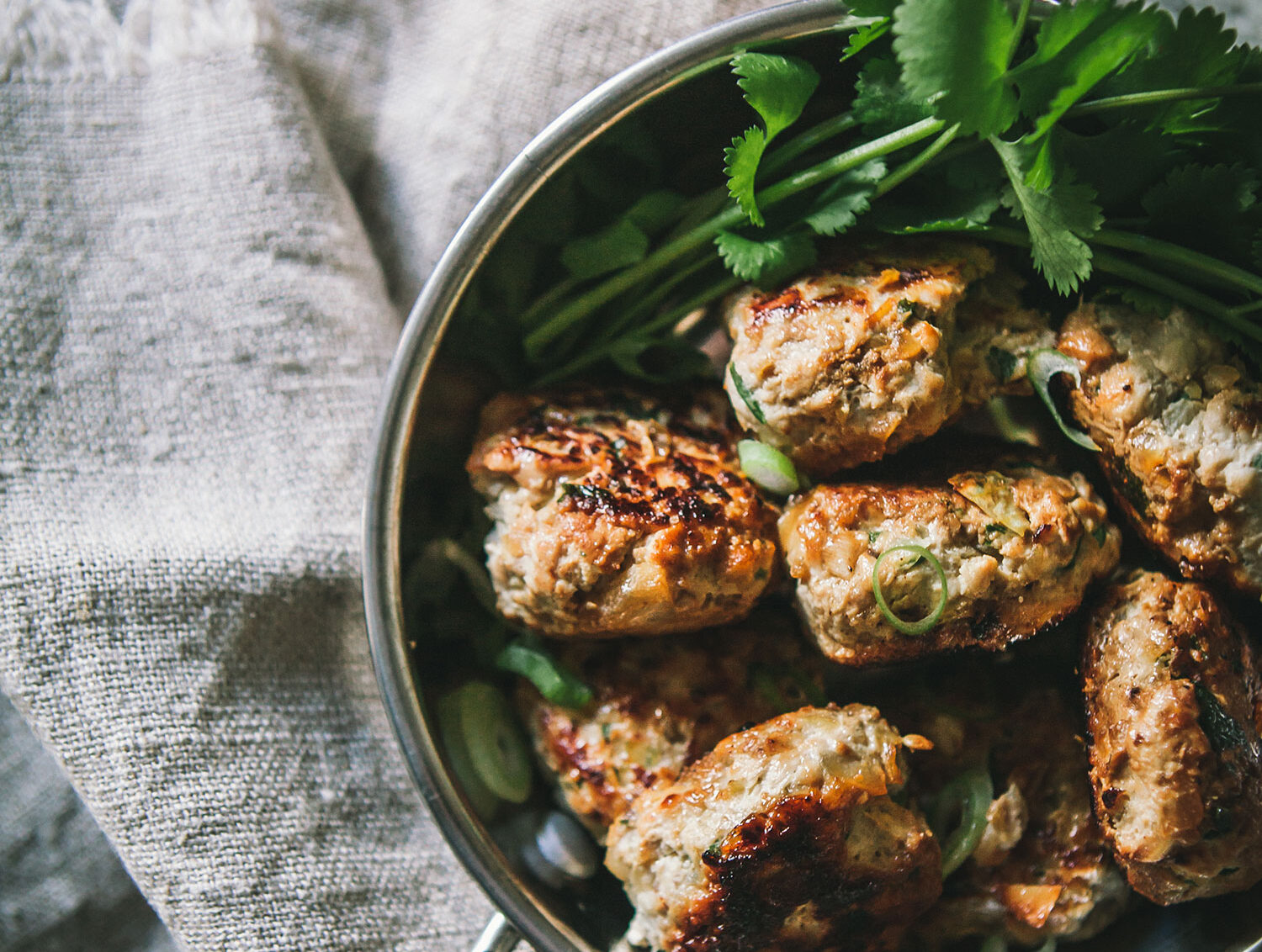 INGREDIENTS
½ an onion, peeled and roughly chopped
2 garlic cloves, peeled and roughly chopped
1 cm of fresh ginger, peeled and roughly chopped
400g free range chicken breast, roughly chopped
1 tablespoon of coconut aminos
1 small handful of fresh coriander
Himalayan salt to season
1 tablespoon of olive oil
Makes 9-10 meatballs
Suitable for:
Lunch | Dinner
Put onion, garlic and ginger to a food processor and pulse a few times. Add chicken breast, coconut aminos, coriander and salt. Process until well combined. If necessary, stop and scrape down the sides as you go.
Wet your hands and roll the mixture into 9-10 meatballs, a little smaller than a golf ball in size. Place meatballs into a frypan with the olive oil and cook on medium high for 15-20 minutes, rotating frequently until cooked through and golden brown. Alternatively bake them in the oven at 200 degrees celsius for 15-20 minutes.
PROGRAMME NOTES
Three meatballs will be used for dinner on Day 5. Put two cooked meatballs in the fridge for the Healing Bowl Day 6 lunch and freeze the remaining cooked meatballs for use after the programme.
Meatballs were one of my  favourite meals as a child and its great to have a gut-friendly recipe to use. Store-bought meatballs are often high in sodium, sugar and other additives which can contribute to gut health issues. When making your own you avoid all of those health-depleting ingredients. They are so easy to make and so tasty. Enjoy!

Coconut aminos is a sauce made from coconut sap – it is dark, rich, salty and slightly sweet – very similar to soy sauce. It can be found in most supermarkets in the health food or gluten free aisle.