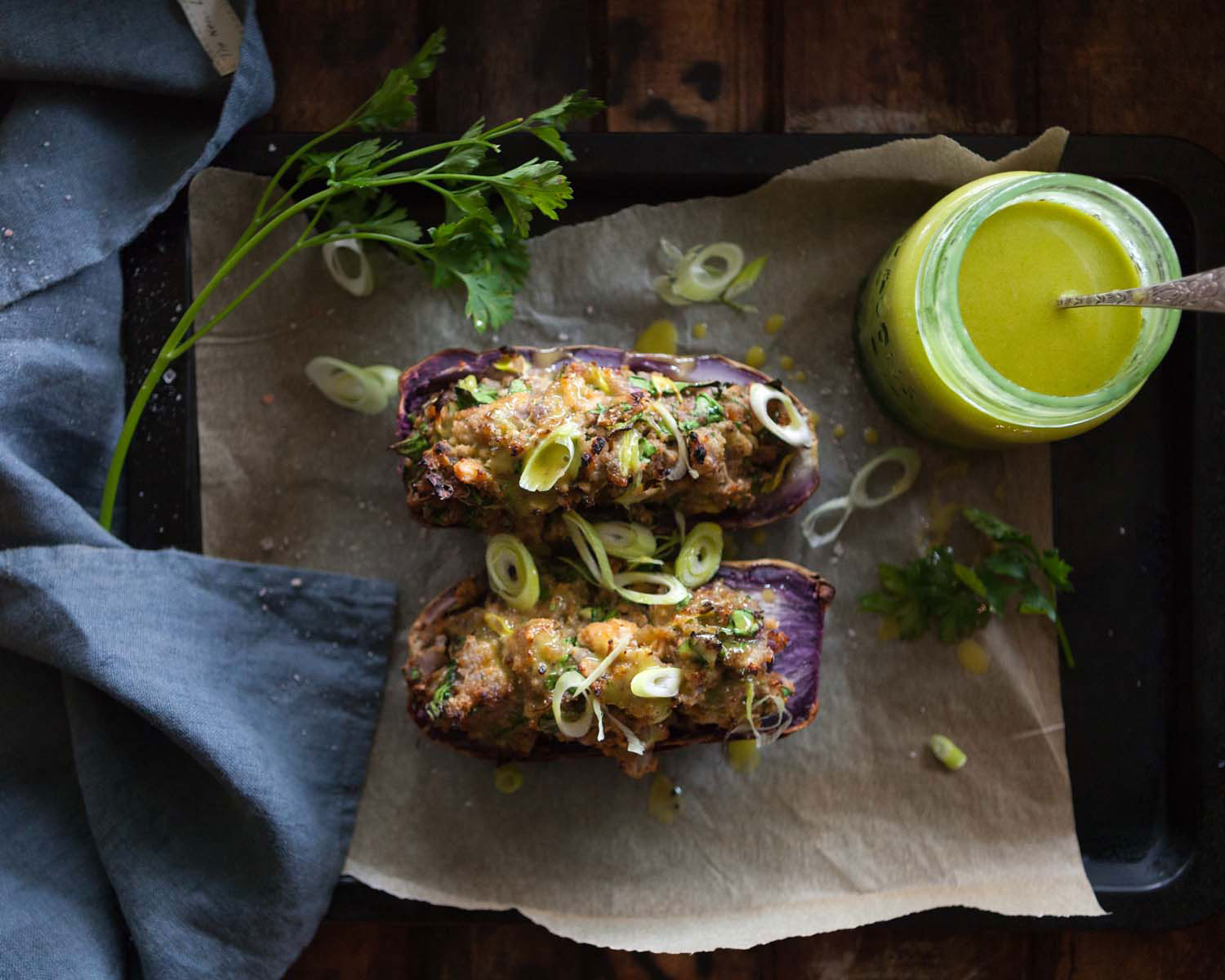 INGREDIENTS
1 large sweet potato or 2 medium
2 teaspoons of olive oil
1 x 95 gram can of salmon, drained, bone in
½ cup of spinach, roughly chopped
1 tablespoon of Italian parsley, roughly chopped
2 spring onions, finely chopped
½ a tablespoon of coconut aminos
½ teaspoon of turmeric (optional)
Himalayan salt to season
TO SERVE
2 servings
Suitable for:
Lunch | Dinner
Preheat oven to 200 degrees celsius. Put the whole sweet potato on a baking tray lined with baking paper. Prick sweet potato with a fork several times and drizzle with one teaspoon of olive oil. Place in the oven and roast for 40 minutes – to check if it is cooked prick with a fork to see if it is soft inside.
Once cooked, remove from oven and cool slightly so it can be handled. Cut in half and scoop out ¾ of the flesh leaving a thin layer around the outside. Place scooped sweet potato in a bowl and mash with a fork. Add salmon and mash again to mix. Mix in spinach, parsley, half the spring onions, coconut aminos, turmeric (optional) and combine. Spoon it back into your sweet potato halves. Drizzle with one teaspoon olive oil.
Place back on tray and into the oven to cook for 15 minutes. Remove from the oven and place one half on a plate.  Sprinkle remaining spring onions over the top and drizzle with Bestow Herb Dressing.
PROGRAMME NOTES
Bake and extra sweet potato to use in your Gut Healing Brekkie on Days 3 & 4.
Serve with a handful of spinach and blanched broccoli. Place remaining stuffed sweet potato half into a container in the fridge for Healing Bowl Day Three lunch and remember to keep aside a small jar of dressing.
Sweet potato is an amazing vegetable when it comes to supporting gut healing, as it is high in resistant starch. This contribute to a healthy gut in many ways, primarily through feeding the good bacteria. Sweet potato also helps to maintain healthy gut  function, promotes vitamin production, improves immune function and enhances the breakdown and elimination of toxins. We knew there was a reason it was one of our favourite vegetables!

Coconut aminos is a sauce made from coconut sap – it is dark, rich, salty and slightly sweet – very similar to soy sauce. It can be found in most supermarkets in the health food or gluten free aisle.