Why do we love Bone Broth?
Did you know  that bone broth is awesome because it's one of the best things you can eat to heal a 'leaky gut' ?
It's so easy to make because you can add all the ingredients to a slow cooker and leave it for the day or overnight. It's nutrient dense, easy to digest and boosts gut health. From a nutritional point of view, bone broth offers three important things: amino acids, gelatin and minerals.
The amino acids in bone broth contain glycine and proline. Glycine is converted into an important neurotransmitter which improves memory, alertness and mood. It also promotes detoxification and stabilises blood sugar levels. Proline is beneficial to our heart, preventing the build up of cholesterol in our blood vessels. Both of these amino acids are involved in collagen formation so they strengthen our skin and help repair the gut wall.
Gelatin in bone broth is beneficial because it is soothing and restoring and strengthens the gut lining promoting probiotic balance and growth.
We love bone broth every morning and it's become our favourite way to start a day because it's so tasty and healing! Just add veggies from the night before like roasted pumpkin, sweet potato, carrot, broccoli or other leftover veggies with some fresh greens like spinach, kale or bok choy. Having bone broth for breakfast might be a new idea, but we encourage you to embrace it.
Many recipes on our Bestow Love Your Gut Programme include bone broth because of the healing benefits and it is a great way of using leftovers and seasonal veggies.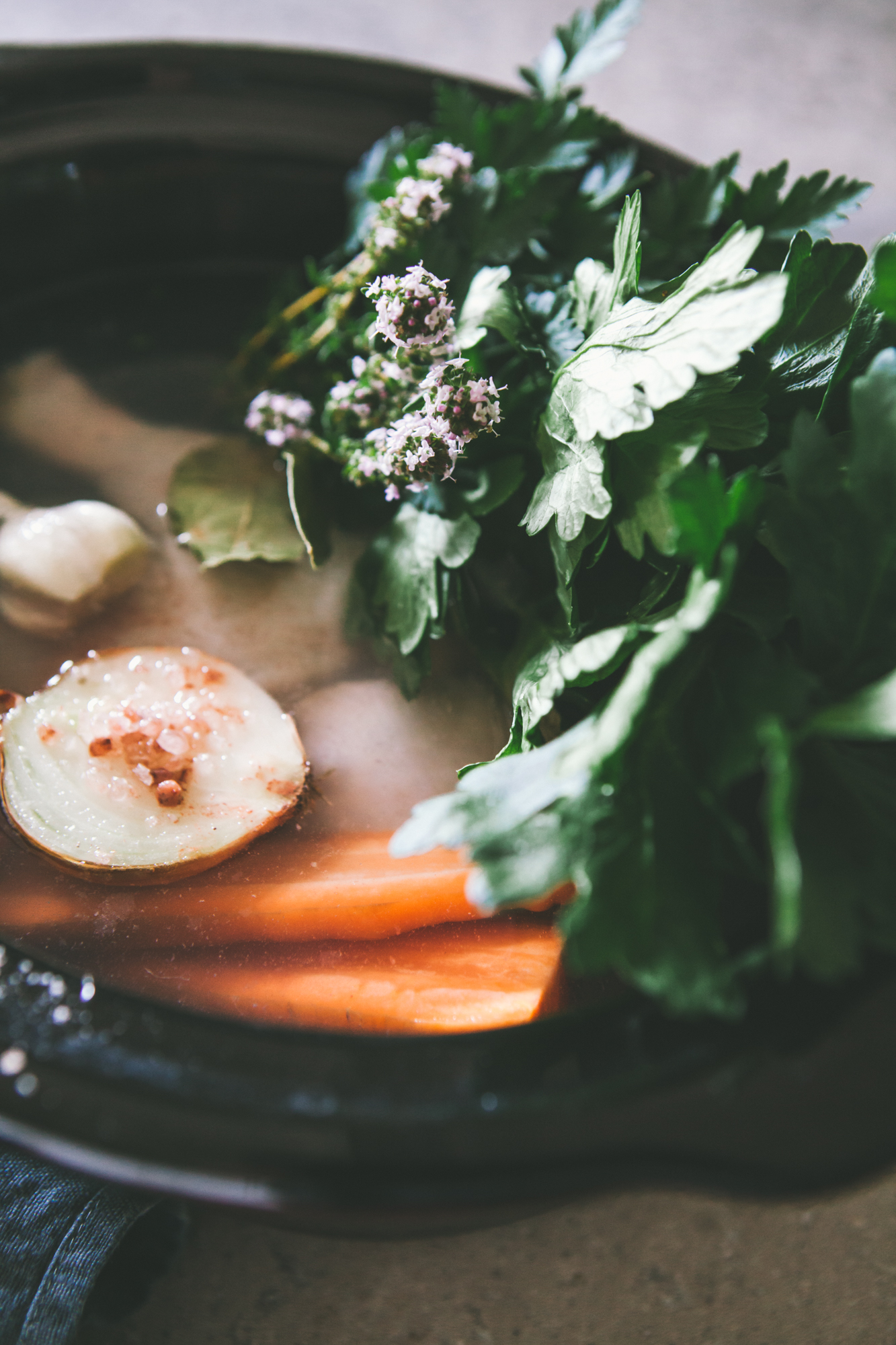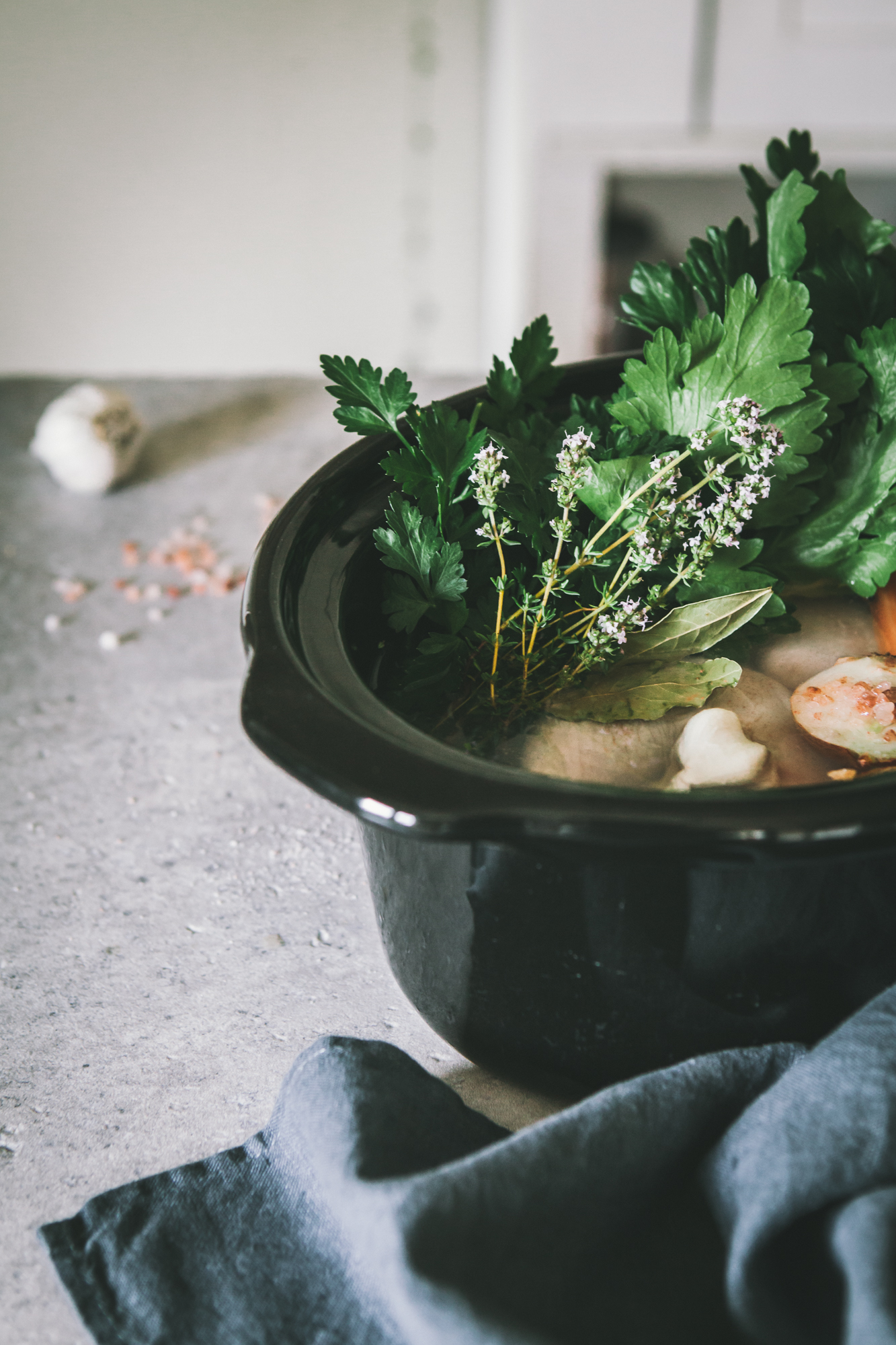 INGREDIENTS
1 half an organic chicken
1 leek, chopped in half
1 celery stick, halved
1 parsnip
1 carrot
1 onion, halved (skin on is fine)
2-3 garlic cloves
2 bay leaves
2 inches of fresh ginger
2 tablespoons of apple cider vinegar
1 handful of Italian parsley (stalks and all)
1 tablespoon of Himalayan Salt (coarse or ground)
8 cups of water
METHOD
Place all ingredients into a slow cooker and cook on low for a minimum of five to seven hours.
About five hours into cooking, take the chicken out. Separate the cooked chicken flesh from the bones. Set the chicken aside and place the bones back in the slow cooker for the remainder of the cooking time or skip this step if you are not at home. Cool broth, and strain out the bones and vegetables into container or jars that can be refrigerated and frozen. Once cool, scrape off any fat that has solidified on the top. Will last several days in the fridge and also freezes well.
Use the chicken flesh for chicken soup!
TIP
When cooking other vegetables for other meals and you have offcuts or leftovers of raw vegetables you can add these to snaplock bags and freeze for future batches of broth. Just ensure offcuts are clean first.