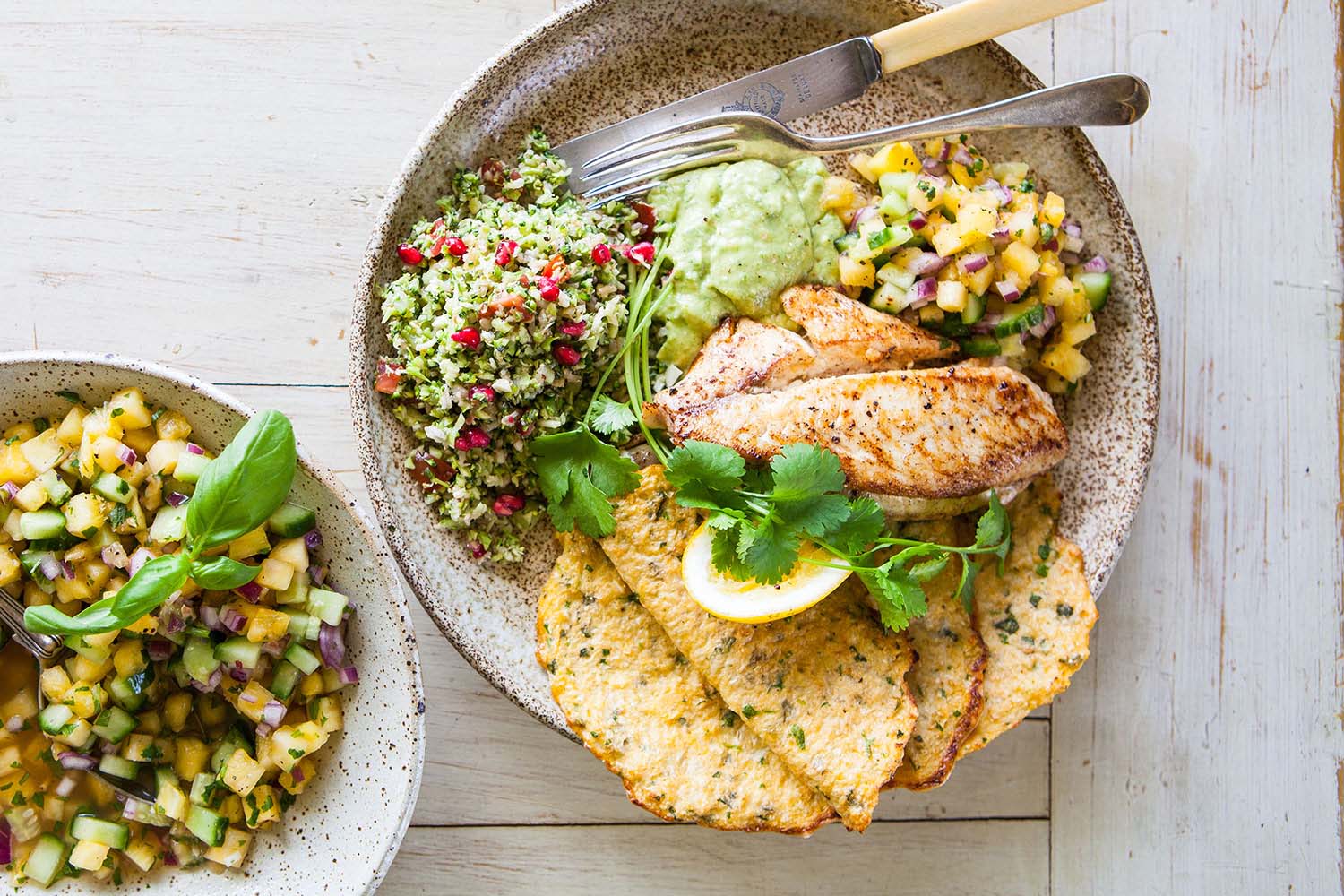 1 fish fillet (snapper, tarakihi and gurnard are ideal)
1/2 tablespoon of olive oil for frying
Himalayan salt and cracked black pepper
Suitable for:
Breakfast | Lunch | Dinner
Vegetarian and other options
The nature of this way of eating – fill your own tortilla – means you can use any plant or animal based protein or a combination of both. Use a plant-based alternative such as tempeh to replace the fish for a vegetarian option. However, Cauli Tortillas are not vegan friendly as they are unable to be made without eggs.
Freezer friendly
The tortillas are freezer friendly and can be kept frozen for a 2-3 months. Remember to take them out the day before to thaw in time, the other option is to warm through by placing in the oven for 5-10 mins on 180 degrees celsius or reheat on medium in a fry pan.
Heat the oil in a large frypan over a medium heat. Add the fish fillets and cook until golden brown on each side. Season with salt and pepper. Serve with half the Pineapple Salsa, remaining Broccoli Tabbouleh, two of the Cauliflower Tortillas and the remaining  Creamy Avo Sauce.
The Pineapple Salsa and Creamy Avo Sauce can be made ahead and refrigerated – they will all last up to two days. The Cauliflower Tortillas can be made fresh or also made ahead and can be frozen for up to one month.
This meal is a lovely twist on the well known classic, fish tacos. We have used the base of a soft homemade tortilla instead of a hard taco as they are easier to fill and eat.  This is a great family-friendly meal to share with others. Everyone can enjoy filling their own tortilla, both those who eat meat and those who choose to eat a vegetarian diet. Simply have some plant-based protein such as tempeh available to replace the fish as a vegetarian alternative. As the Cauli Tortillas cannot be made without egg, this is not a suitable vegan meal. An extra serving of Broccoli Rice Tabbouleh instead of  Cauli Tortillas could be served for those who follow a vegan diet. 
Snapper is high in vitamin A and omega-3 fatty acid, both of which are essential for skin health. Vitamin A also aids in the healing process, supporting those struggling with eczema or acne.
CARRY-OVER NOTES
The Bestow way is to make once and eat twice!
Store the remaining Pineapple Salsa and two Cauli tortillas in the fridge to use in your Goodness Bowl Day Three. The remaining tortillas can be frozen and enjoyed when you finish the Bestow Cleanse.
Click the images below to view the recipes for the Pineapple Salsa, Broccoli Tabbouleh and Cauli Falafels.