A daily ritual to nourish
your skin from within
Bestow Smoothies are the perfect way to sustain your energy and to get your daily dose of Bestow products, which offer your body a veritable feast of the nutrients required for beautiful skin.
Your 7-Day Meal Plan, includes a daily Bestow Smoothie (see below) as an afternoon snack each day. This smoothie recipe features three essential Bestow skin-nutrition products, Bestow Beauty Plus Oil, Bestow Beauty Powder and Bestow Gut Love +
Together, they offer a daily feast of essential skin nutrition.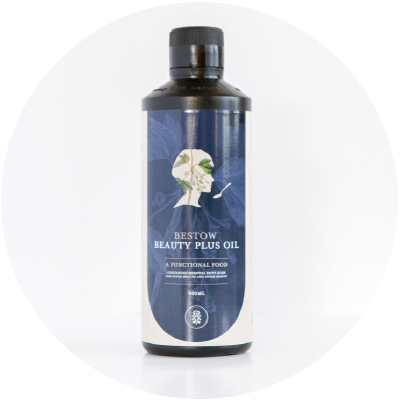 Bestow Beauty Plus Oil moisturises your skin from within for a natural luminous glow. It contains a special blend of Essential Fatty Acids which helps each cell in your body cleanse more efficiently.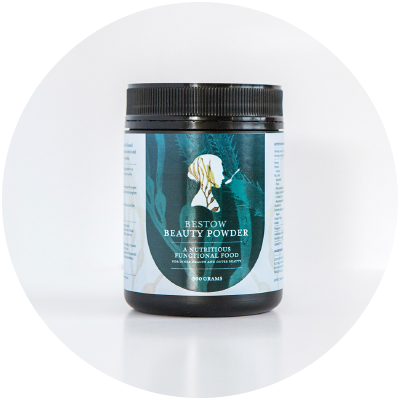 Bestow Beauty Powder nourishes your skin from within, supplying essential nutrients that are often missing in our modern diets. It helps to flood your liver with the nutrients it requires to cleanse.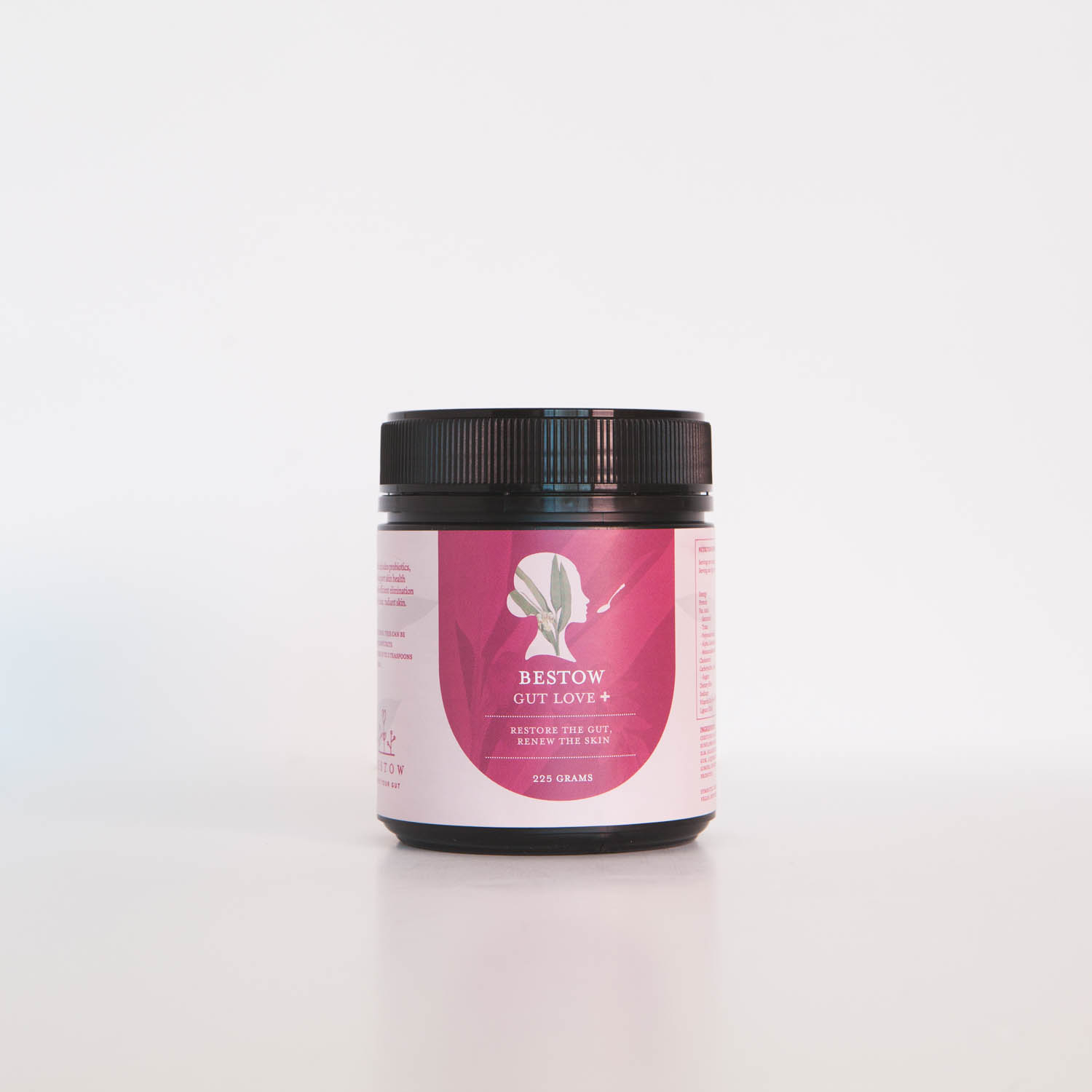 Bestow Gut Love + Restores the gut and renews the skin with a world-class probiotic to rebalance the microbiome and fibre-rich superfoods to promote elimination of toxins.
Having these products in your Bestow Smoothie each day is an essential part of your 7-day plan. Collectively, they make a significant contribution towards meeting the Recommended Daily Intake (RDI) of key nutrients needed for wellbeing and skin health.
Modern food production and storage makes it actually very difficult for us to meet our RDIs through food alone, and Bestow skin-nutrition powders are an essential part of addressing this deficit. They provide your body with an abundance of the nutrients your skin needs to thrive.
Sustain Your Energy
Don't leave yourself at the mercy of a 3pm craving as your blood-sugar begins to dip. The Bestow Smoothie Ritual gets ahead of that dangerous game by boosting your energy so you can continue to make good, healthy choices all the way through to dinner time. Bestow smoothies are rich in bioavailable nutrients that are readily absorbed by the body and will easily sustain you for two-three hours.
THE RITUAL
Set a reminder in your phone or calendar to make your mid-afternoon Bestow Smoothie Ritual. Get ahead of the blood-sugar drop!
Make your Bestow Smoothie (recipe below).
Pour it into a nice glass and sprinkle on some toppings.
Take a break for five minutes and sit and sip your smoothie slowly, savouring each mouthful.
Picture the abundance of nutrients entering your body and nourishing your skin.
Wash your blender and go about the rest of your afternoon with sustained energy.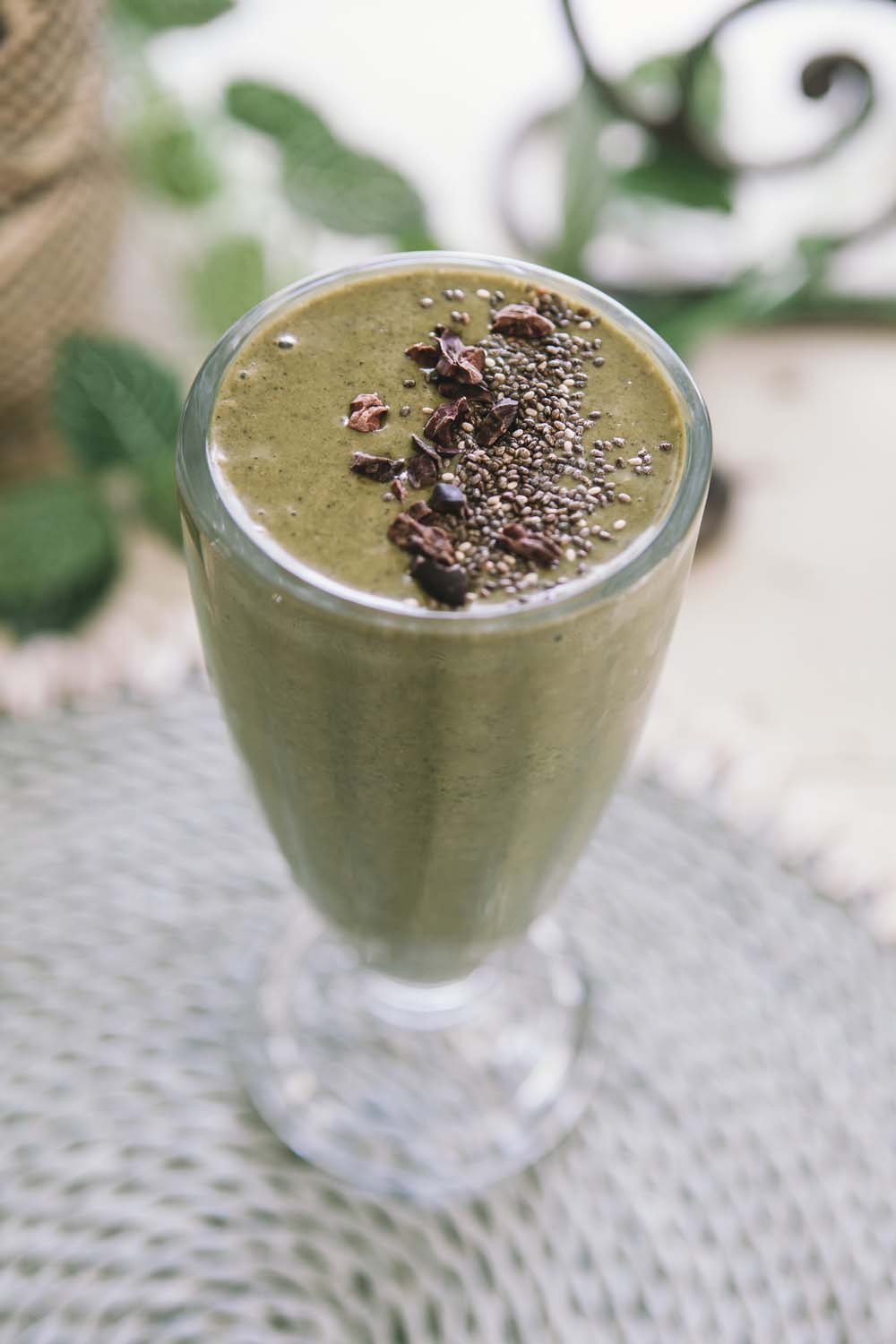 Psst…
Bestow smoothies can be made with an endless variety of colours and flavours. Check these out on the Bestow website when you have finished the cleanse. For this week, concentrate on this Bestow Skin Essentials Smoothie which is rich in the essential nutrients you need to meet your RDI's during the cleanse. You are already trying a lot of new recipes this week, so enjoy the familiarity of repeating this smoothie recipe each day.
THE BESTOW SKIN ESSENTIALS SMOOTHIE
Your RDI Hero Snack
Your Bestow Skin Essentials Smoothie gifts your body a significant contribution towards the Recommended Daily Intake (RDI) of many important nutrients. (See list below). For example, you get close to half your daily fibre needs and 60% of your vitamin A from this one smoothie.  It also gives the body a good dose of calcium which is otherwise hard to get. This is done through the molasses and almond milk, both of which have high levels of calcium. And this is before you are even adding the full quantity of Gut Love +. Not bad for an afternoon snack!
We have set the Bestow Smoothie Ritual as an afternoon snack to avoid a blood-sugar dip. However you can choose to have it depending on when you feel your body most needs the boost. Another option is to include this with your breakfast or another meal of choice during the day if you prefer.
RDI's % of Key Nutrients Supplied
in Bestow Skin Essentials Smoothie
To learn more about RDI's and the importance of these micro-nutrients
for avoiding disease and enjoying optimum health download the PDF below: