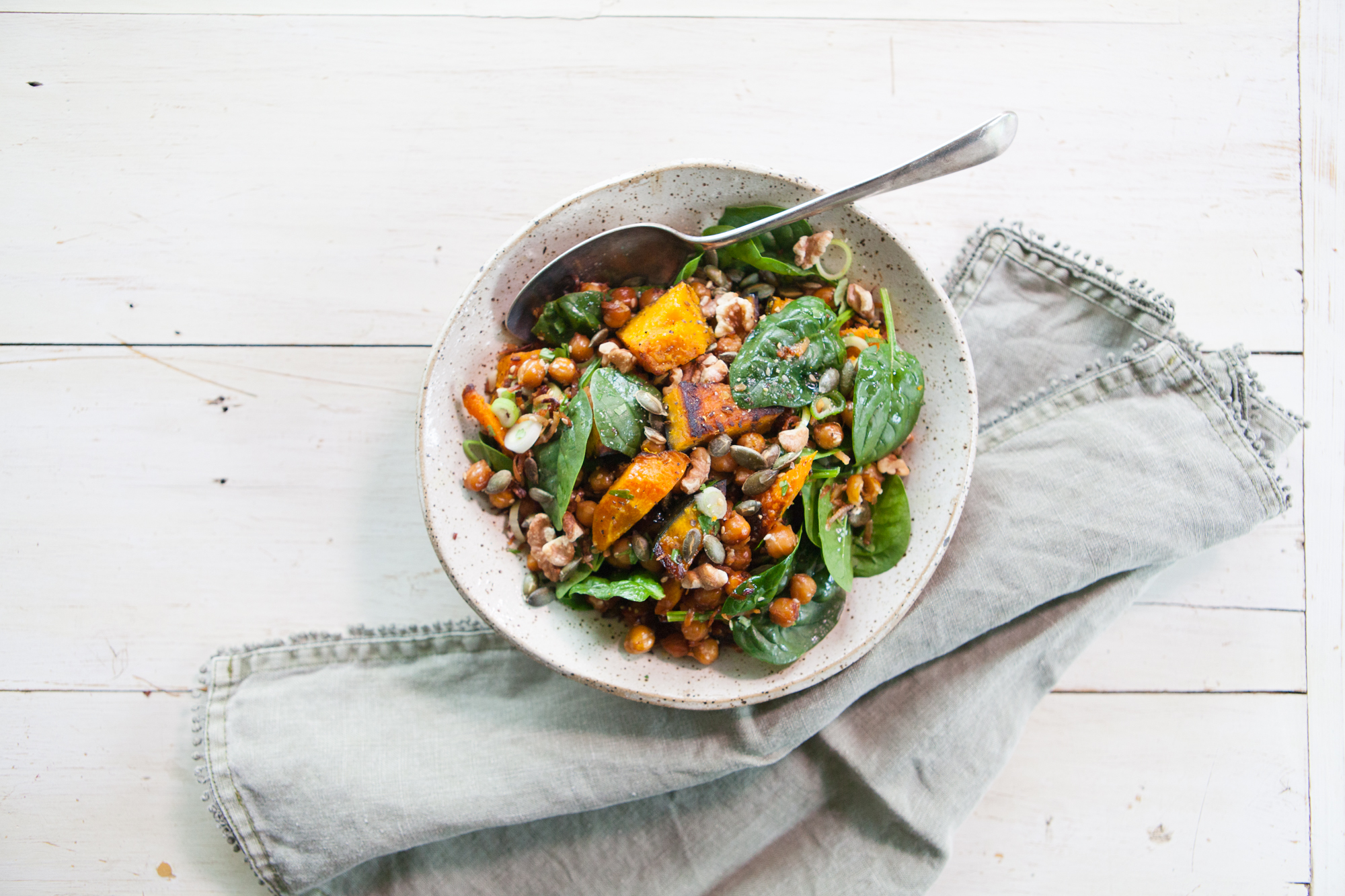 INGREDIENTS
For the Roast Veggies
2 carrots, peeled and chopped diagonally
½ buttercup pumpkin, chopped into chunks, skin on
2 tablespoons of olive oil
1 teaspoon of cumin seeds
½ teaspoon of turmeric powder
1 tablespoon of fresh ginger, finely grated
1 tablespoon of fresh garlic, finely grated
Himalayan salt and cracked black pepper
To Serve
½ cup of Chickpea Crunch
½ cup of fresh spinach leaves
1 tablespoon of fresh coriander, chopped
1 tablespoon of fresh parsley, chopped
1 tablespoon of spring onions, chopped
1 tablespoon of toasted seed/nut mix (walnuts, sunflower and pumpkin seeds)
½ cup of brown rice, cooked
½ a lemon, juiced
1 tablespoon of Bestow Beauty Plus Oil
Suitable for:
Lunch | Dinner
Pre-heat the oven to 200 degrees celsius.
Line a baking tray with baking paper. Mix all of the roast veggie ingredients  together in large bowl and spread out evenly onto the baking tray. Place in the oven and roast until golden brown (approx. 25 minutes).
Mix 1 cup of roast veggies with the Chickpea Crunch, spinach leaves and herbs. Serve over the brown rice, sprinkle with the spring onions and toasted seed/nut mix. Season to taste and drizzle with lemon juice and Bestow Beauty Plus Oil to serve.
Place the rest of the roast veggies in a sealed container in the fridge to use in your Comfort Bowl Day 3.
Orange vegetables are well known for their high levels of beta-carotene. Our body converts beta-carotene to vitamin A, which is one of the six key nutrients needed for skin health. Vitamin A aids in the growth, maintenance and repair of your skin, keeping it strong and supple.