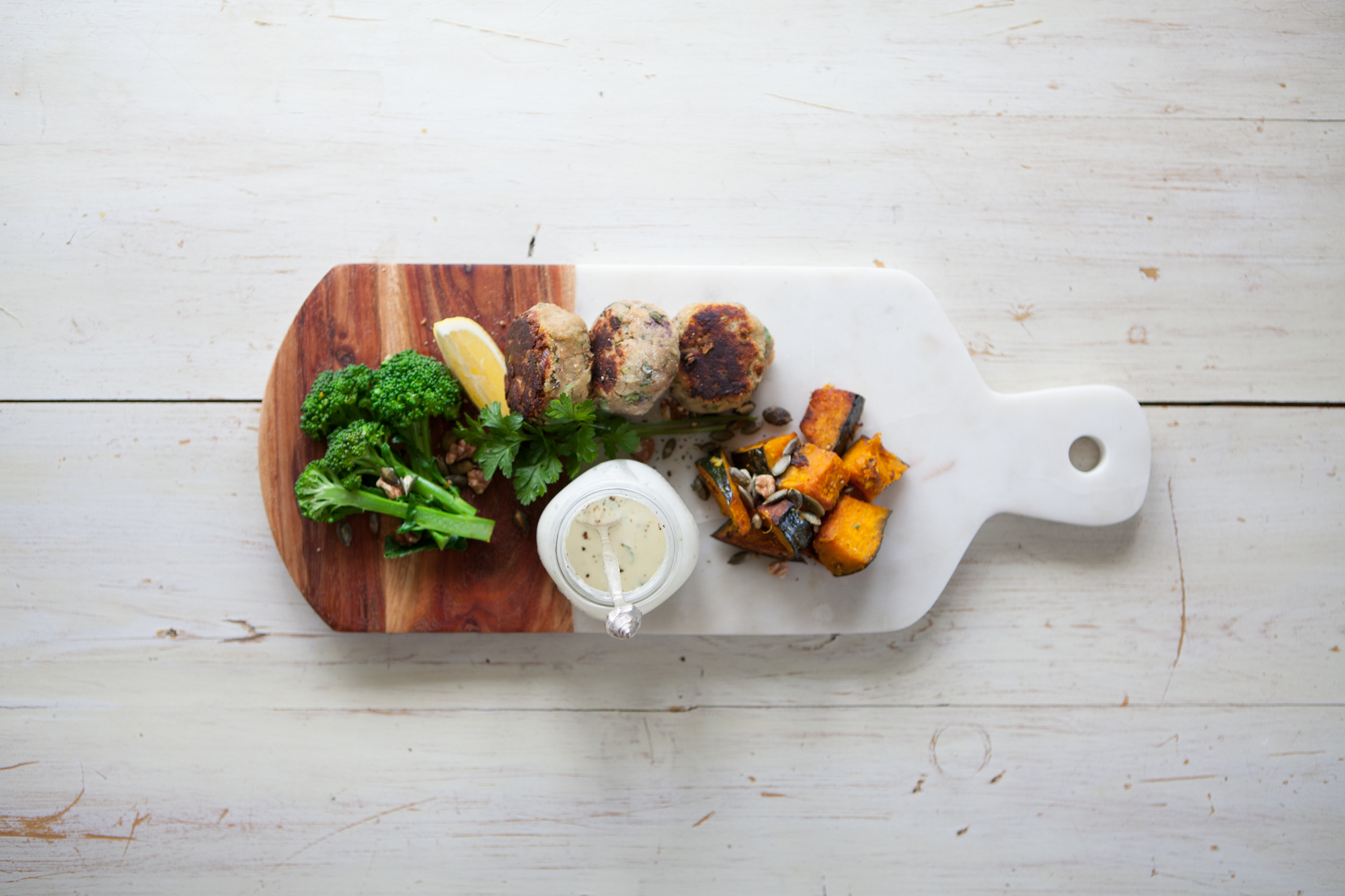 INGREDIENTS
(Makes 10 cakes)
1 large purple sweet potato (kumara), skin on, cut into chunks
½ a teaspoon of Himalayan salt
2 spring onions, finely sliced
1 generous handful of fresh herbs, finely chopped (such as coriander, basil, parsley, dill)
200g tin of wild salmon, drained
1 tablespoon of fresh ginger, grated
1 tablespoon of fresh garlic, grated
1 lemon, zested
1 tablespoon of tamari
1 egg, lightly beaten
2 tablespoons of brown rice flour (for coating)
Optional: add any other veggies such as grated carrot, finely chopped broccoli, spinach, grated zucchini
Day 3 Dinner Vegetarian Option
Make Cauli Falafels
To serve
1 cup roasted pumpkin chunks
¾ cup broccoli florets, blanched
2 tablespoons of Bestow Creamy Coconut Dressing
1 tablespoon of toasted walnuts, sunflower and pumpkin seeds
1 lemon wedge
Suitable for:
Lunch | Dinner
Place sweet potato and salt into a saucepan and cover with water. Put on the stovetop and bring to the boil for 15-20 minutes. Once soft, remove and drain the water. Mash sweet potato and add all other ingredients. Mix well and shape handfuls into a golfball size. Roll in brown rice flour and flatten slightly.
These can be made ahead and kept in a sealed container in the fridge for a couple of days until cooking time. Once cooked, they can also be frozen.
When you are ready to cook, place 1 tablespoon of olive oil in fry pan and turn onto medium heat. Cook on on each side until browned.
As as a variation, you could use smoked fish instead of tinned wild salmon.
For a vegetarian dinner option for Day 3, make Cauli Falafels.
Makes 10 cakes. Use three for dinner, three for lunch tomorrow and freeze the remaining four for the week following the cleanse.
Using tinned wild salmon with the bones in gives you a massive calcium boost. Calcium is important for both skin and overall health and can be harder to get when you do not consume dairy.